Q and A with Pakenham jazz musician Paul Ingle... What is something people don't know about you? My inner desire to have known my dad better....
White Ribbon Australia is urging communities to get together to chat about how Australia can prevent men's violence against women, and address the causes...
Pakenham Primary School celebrated different cultures by holding a multicultural performance afternoon and dress up day on Wednesday. "The school community was so excited to...
The community came together to experience rich cultures in celebration of Harmony Day at the Living and Learning Centre in Pakenham on Thursday. Music School...
Rescheduled due to the Bunyip State Forest bushfires, Gembrook Primary School is proud to be hosting its outdoor movie night on 29 March. This...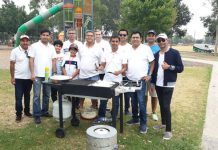 Cardinia Gujarati Association Inc. (CGA) hosted a sports day and barbecue at PB Ronald Park in Pakenham on Sunday 10 March. Sports day was...
Bunyip fire relief sausage sizzle Lakeside Residents Group will be conducting a fundraising sausage sizzle for the Casey Cardinia Foundation - Bunyip Fire Emergency Relief...
Beaconsfield Tennis Club members took a trip to Parliament House in Melbourne for their long standing dedication, coaching program and partnership with mental health...
Head down the road on Saturday 30 March to see the Gippsland town of Jindivick become a thriving culinary destination for one day only,...
It was never imagined back in the early 80s that local jazz trombonist Paul Ingle, then playing at the Central Hotel in Beaconsfield would...
Gritty. Resilient. Passionate. That was the mind set for a group of fitness fanatics from NewFit Personal Training in Beaconsfield who put their bodies on...
Emerging Berwick fashion designer Nicole Westmorland's creations are popping up all around and her next stop is Bunjil Place Plaza. Bunjil Place is collaborating...