The team over at the Kooweerup Regional Health Service is tuning up for their annual community event 'Music on the Grass' - a mini...
Alinta Chidzey one of Australia's most versatile leading ladies, will be collaborating with the Hook Turn Orchestra for a concert in Cardinia this November. This...
Seniors Festival Listen to the rock 'n' roll music from the 50's and 60's by Honey B and The Stingers. - Thursday 18 October, afternoon...
Berwick's home-grown hero Buddy Murphy has etched his name into the record books, becoming the World Wrestling Entertainment's first ever male Australian champion. An alumnus...
Thousands of wrestling fans flooded Fountain Gate on Thursday afternoon to catch a glimpse of their idols – the Bella Twins. The World Wrestling Entertainment (WWE)...
Pakenham baby show Baby Show Time are back in Pakenham for another wonderful day supporting Kids With Cancer Foundation Australia. Trophies, ribbons and prizes...
Dominion, SyFy Foxtel, Wednesday, 7.30pm Have you ever watched a television show and wondered just what you watched and what the heck was going on? Cue the...
Ready Player One Starring: Ben Mendelsohn and a cast of unknowns Mark this one as the project on which Steven Spielberg both jumped the shark and...
Toy Story Outdoor Cinema Night Set up a picnic at the Wilson Botanic Park for a Toy Story Outdoor Cinema Night. There will be Food...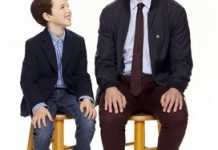 Young Sheldon, Nine, Monday and Tuesday, 7.30pm Apparently this is America's number one comedy and it's true I laughed out loud - once halfway through the...
Blockers Starring: John Cena, Leslie Mann, Ike Barinholtz It's your standard teen sex comedy ... for adults. That's how our household's Mr 16 described this one -...
By Tania Phillips Peter Rabbit Starring: Rose Byrne, Domhnall Gleeson, Sam Neill, James Corden, Daisy Ridley, Elizabeth Debicki, Margot Robbie Once upon a...