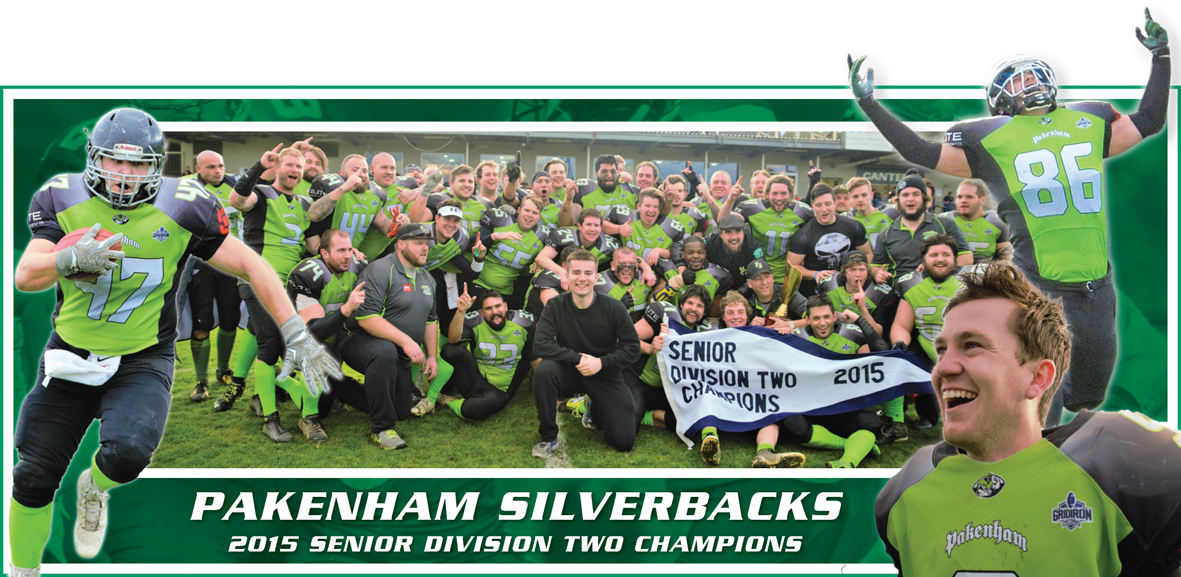 By RUSSELL BENNETT
"IF YOU build it, he will come."
To borrow a line from Field of Dreams – one of the most famous sporting movies of all time – the Pakenham Silverbacks have built something truly special in just their first two seasons of Gridiron Victoria competition.
Despite yet having bricks, mortar or even a home field to call their own, the Silverbacks have already achieved in year two what many thought was impossible. They've built a brotherhood and a foundation of mateship so strong, that it has taken them from literally nothing to the Division 2 crown.
On Saturday afternoon at the Latrobe City Sports and Entertainment Stadium in Morwell, their 2015 fairy-tale was completed.
After a season in which they played no home games; in which they didn't even have a home base; and in which many outside the club dismissed their chances of achieving anything – the Silverbacks hung on for dear life to claim the Division 2 title 9-6 over the Monash Barbarians.
Pakenham had already defeated the division's red-hot favourites, the Bendigo Dragons, to reach the decider – where they faced a Monash outfit with a bonafide championship pedigree. And it seemed for much of the early going on Saturday that the Silverbacks had already played their final in just making it to the championship game.
After coming out of the half-time 0-0 deadlock, Pakenham took its opportunities on both ends. Paul Tindall's side led 6-0 heading into the final quarter and with one hand already on the championship trophy, held on for dear life to seal a famous win.
For Tindall, Saturday marked his second successive Division 2 title – having guided the Gippsland Gladiators to glory last year.
As he held the trophy aloft on the middle of the field on Saturday, he thanked the Silverbacks and their committee for the opportunity to be involved in "a true club".
Vice-president and assistant coach Damien Belsham said all the adversity the Silverbacks had gone through to this stage simply served to build character.
"The closeness that we have as a team is incredible," he said.
"This is a family, and all that adversity brings us closer as a group."
Tight end Kane Latham has a unique perspective on the Silverbacks' success. The current president of the Tooradin Cricket Club has experienced plenty of it with the Seagulls – having won four flags in six years.
But rather than being part a powerhouse (as he is with Tooradin), at the Silverbacks he's entrenched in a club that's come from nowhere to claim it all.
"I joined this team one or two games into last year," he said, still in disbelief as he walked off the ground after Saturday's win.
"I saw all the work that was being put in and everything that was being done.
"To see something come up after being written off by everybody; being called the party boys of the league and accused of not caring about our football; it's unbelievable."
Quarterback Steve Mclean was bedridden in the lead-up to Saturday. He, along with other key players such as Tommy Trimble, got the flu at the worst possible time.
But Mclean, right when it mattered most – in Saturday's second half – had ice running through his veins.
"We had a big win last week, and I was worried we'd come into this game thinking we'd won it already, but the boys knew they had a job to do and they came out and fought so hard – we matched them for most of the game and were able to get a lucky break here and there," he said, exhausted and with the colour drained from his face.
"This is just huge for our club."
Mclean said the Silverbacks' offensive line gave him "all the confidence in the world" over the season's final weeks, adding that: "Once your arm is going well, the o-line is holding them back, and you've receivers out there who can catch, your job becomes pretty easy".
Along with Mclean and offensive linemen Grant Allen and Jye Healey, defensive star Tommy Trimble battled through illness on Saturday.
He arrived at the Silverbacks this year after stints in Division 1 with Berwick (where he was Rookie of the Year), and the South Eastern Predators (where he made the Victorian side).
"This amazing – I was going to continue playing Div 1 this year but Richie asked me to come down and take them through some tackling techniques and straight away I knew they were good blokes so I stuck around, and now I'm part of a fairy-tale," he said.
And then there's gun running back Adam Kolinski. Born in England, he started playing while he was at university in Bournemouth and fell in love with the game.
Having played originally as an outside linebacker and defensive end, when he moved to Australia and discovered the Silverbacks through one of their local barbecues, he switched to inside linebacker. Last season, he was named Division 2's overall MVP, and defensive MVP.
But that's nothing compared to being able to call himself a champion as part of this year's side.
"We did really well last year but we fell at the last hurdle," he said.
"I think in order to be a champion, you have to know what it's like to lose. I think this team learnt a lot. Through the struggle, everyone grinding and everyone working hard in the dirt and the mud – we did it. We don't get to play in front of a home crowd, but that brought us closer together and made us want it even more."
These Silverbacks have built it. Now they wait for more to come.
THE 2015 PAKENHAM SILVERBACKS ARE …
Jack Lonie
Tommy Trimble
Chevy Edwards
Jason Siegal
Mutini Nhliziya
Daniel Stocker
Callum Riggins
Aaron Verbakel
Jaxson Mahy
Brad Mahy
Richmond Stowers
Glenn Milton
Jordan Weightman
Richie Howlett
Jye Healey
Grant Allen
Geoff Best
Aaron Weightman
Jarrod Collett
Steve Mclean
Adam Kolinski
Jason Howlett
Kane Latham
Nathan Hiam
Jayden Wennholz
Bailey Loughnan
Paul Ballinger
Cameron Dixon
Aaron Weightman
Josh Smith
Ben Hiam
Jonathan Garrett
Sam Neal
Joel Eldridge
Toby Currie
Andrew Crossley
Paul Scholes
Daniel Scholes
Coaches:
Paul Tindall
Damien Belsham
Brandon Tonks
Leed Wesolowski
Executive committee:
Richie Howlett (President)
Damien Belsham (Vice President)
Ashlee Trimble (Secretary)
Adrian Lepke (Treasurer)
Sponsors:
JETTS Pakenham
Images by Belco
Silverstring Outlaws
The club also thanks Jack Valic for all his support and tireless hard work.