Video shows the car travelling past at the time of the murder.
By ANEEKA SIMONIS
POLICE investigating the murder of Pakenham mum Kylie Blackwood have released breakthrough footage of a car with suspected links to the unsolved case this morning.
Newly uncovered CCTV footage shows an unknown vehicle believed to be a late model white Nissan Tiida sedan with a rear spoiler driving only metres away from Kylie's home around the time she had arrived.
The car is then captured leaving shortly after police believe the murder took place.
The CCTV shows the car driving along Balmoral Way which runs off McCaffrey Rise where the 42-year-old mum's body was discovered by her children as they arrived home from school at about 3.40pm on 1 August 2013.
Police believe the vehicle was in the area from around midday to early that afternoon.
The footage is a significant breakthrough for homicide squad detectives investigating the murder more than two years on.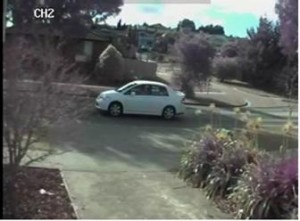 Homicide Squad Detective Inspector Mick Hughes said police had been in possession of the footage supplied by a resident for "a little while" but it had only recently become more significant in the investigation.
It's a fresh lead for detectives whose investigation had previously been stalled by erased CCTV footage from a local bank where attempts were made to access funds from the mum's stolen bank card.
Police said someone had attempted to withdraw cash from Kylie's bank, which has not been identified, on the same day she was murdered but surveillance footage was disposed of before it could be reviewed.
Det Insp Hughes said police still believed the digital image of a man wearing a striped, hooded top was the key to solving the case.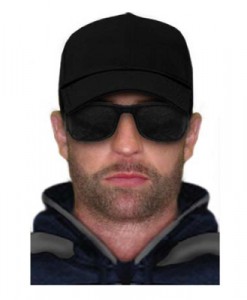 "We would now like to speak to anyone who can draw a connection between that image of the unknown man and anyone who may have owned or had access to the late model white Nissan Tiida sedan," Det Insp Hughes said.
"Previous callers to Crime Stoppers are strongly urged to call again if the image of the vehicle assists them further.
"Someone out there holds the key to solving this murder and we are once again appealing for public help to solve this murder and bring some closure to the Blackwood family."
Police have again released a digital image of a man they believe may be able to assist with the investigation.
The man is described as being about 177 centimetres tall, of a medium build with a muscular upper body.
He was wearing loose-fitting black pants and a striped, hooded top.
Anyone with information is urged to contact Crime Stoppers on 1800 333 000 or submit a confidential report at www.crimestoppersvic.com.au