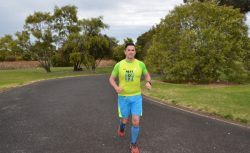 By Bonny Burrows
Brad Battin is proof that no one is ever too old to start running.
The Gembrook MP only began running long distance aged 39 but is now an avid runner so it's fitting he is one of this year's Melbourne Marathon #thisis40 ambassadors.
This year marks the 40th anniversary of the popular event and its organisers have selected 40 ambassadors to assist with its #thisis40 campaign, promoting health and fitness at the age of 40.
Mr Battin said that he, like so many other men and women from his generation, had a realisation upon approaching his 40th birthday that it was time to take fitness seriously.
"We're the bucket list generation. Heaps of people my age have running as a bucket list item to do before 40, myself included," Mr Battin said.
"I started thinking about it aged 39. I suddenly realised 'oh god my dirty thirties are nearly gone'."
Mr Battin completed his first marathon two months before his 40th at the 2015 Melbourne Marathon.
Since then, he's completed seven half-marathons and his next event is the upcoming Melbourne Marathon half-marathon on 15 October.
Mr Battin said in the space of two years he had fallen in love with running.
He now runs about four days a week and doesn't let work or holidays get in the way.
"When I go away, the first thing I do is google fun runs in the area," he said.
"Running is my time, my release. A big part of why I run is for my mental health."
The change he's noticed since taking up running has been huge, he said.
"I used to always worry about what I eat, now I don't even have to think about it," Mr Battin said.
Through his running he has also found a passion for men's health.
"They say your fitness at 50 is the fitness you die with," Mr Battin said.
"And men should be getting more health checks. Events like this and the Biggest Blokes Lunch go a long way to promoting men's health."
He said he was looking forward to joining 35,000-plus competitors at this year's Melbourne Marathon, describing the atmosphere as "incredible".
"Imagine running into the MCG with 100,000 people cheering for you. It's an amazing feeling," Mr Battin said.
He encouraged others to take up the hobby, saying it was a free form of exercise which could be done anywhere.
"If you can walk you can run. If you've got the will to run, you generally can run," Mr Battin said.
"If I can get one person running or making a difference to their health, then it makes it all worthwhile," Mr Battin said.
More information on the Melbourne Marathon can be found at http://melbournemarathon.com.au.