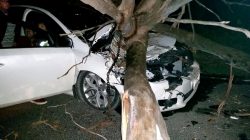 By Bonny Burrows
The family of a Nar Nar Goon North resident who underwent major neck surgery after her vehicle collided with a fallen tree branch is calling on Cardinia Shire Council to improve its regular roadside maintenance program.
In an accident Michael and Lisa Braaksma said was preventable, Ms Braaksma was on her way to pick up her children from ambulance cadet's training when her car hit a "massive" gum tree branch on Bessie Creek Road, Nar Nar Goon North, at 7.20pm on Monday 11 September.
Ms Braaksma was travelling along the 100km/h zone in near-perfect conditions when the incident occurred and was fortunately able to break slightly due to the flashing of mobile phone camera lights from passers-by, which alerted her to a possible danger.
"She thought they could have been joggers so she slowed down," Mr Braaksma said.
However, despite braking, Ms Braaksma collided with the tree branch
Mr Braaksma said regular roadside council maintenance should have been able to identify the branch as a potential danger before it fell.
"We understand accidents happen, but it was a massive branch which implies it was overhanging. It should have been spotted earlier (and cut back)," Mr Braaksma said.
"We were just fortunate there was people there trying to warn her to stop, who were then able to assist in first aid.
"We'd like to thank local paramedics, police officers and residents for helping at the scene."
The accident left the 42-year-old with a serious neck fracture, resulting in major surgery at the Austin Hospital's spinal unit.
She has been left unable to drive and will have to undergo another operation in six months to remove the screws in her neck.
The accident has also placed further strain on the family, which has "seven children who need driving everywhere".
With his wife a full-time homemaker, Mr Braaksma has had to take time off work to step into her role.
"It's going to be hard, but the main thing is Lisa will be OK," Mr Braaksma said.
The family said the incident highlighted the importance of regular roadside maintenance and hoped it would give Cardinia Shire Council with a wake-up call to do "its job".
"I'd like to point out to the council that they have an obligation to monitor and remove over-hanging branches on all local roads," Mr Braaksma said.
"Bessie Creek is 100 km/h zone that is in need of major vegetation clearing.
Mr Braaksma said it wasn't the first time the council had lapsed on its roadside maintenance
"It took three months to clear vegetation on Yarrabubba Road six months ago. It's ridiculous," he said.
"The council's worried about same sex marriage, but not what its core issues are.
"Do your job, council."
Cardinia Shire Council's manager of operations, Ben Wood, said the shire had no obligation to remove all vegetation above local roads, only to the height required for traffic movement, nor conduct hazard or risk assessment of individual self-sown or remnant trees on roadsides.
"The council has a program of inspecting rural roads every three years for vegetation encroachment and based on this, a program is undertaken to ensure adequate clearance and lines of sight are maintained in the envelope through which traffic passes. This is known as box clearing," Mr Wood said.
"The council will also inspect and take appropriate action where a specific tree is identified as being of concern or risk."
According to the council, the unsealed section of Bessie Creek Road was inspected last financial year but did not require works.
The sealed section of Bessie Creek Road had box clearing completed in May this year.