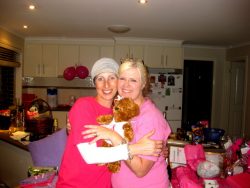 By Bonny Burrows
Jodi Dyer has watched many around her battle women's cancers.
She lost both grandmas to cancer, three aunties have battled breast cancer and another died of lung cancer.
Despite the family history, a gene test revealed cancer wasn't in her genes.
"I was really reluctant to get the test because I didn't want to know if I had a 90 per cent chance (of cancer), but I have a daughter and it's not about me," Ms Dyer said.
"The test results were it wasn't in our genes; our family's just unlucky."
Ms Dyer has been able to steer clear of "bad luck" plaguing her family, but sadly those around her haven't been so fortunate.
Her best friend, Penny was diagnosed with breast cancer on Christmas Eve seven years ago and is now fighting an even bigger battle – secondary cancer.
It's for this reason the Berwick mother is so passionate about supporting medical research through fund-raisers.
"It's so unpredictable. Penny had no history and I had all the history in the world, yet she's the once suffering," Ms Dyer said.
"Cancer doesn't discriminate."
This month, Ms Dyer and Penny will join thousands of other Victorian women hosting a Girls' Night In, a fund-raiser for breast and other gynaecological cancers.
Typically a pink-themed, female-only event comprising of bubbles, pampering and chick flicks, Ms Dyer's event will be a bit different.
While there will definitely be a pink theme, Ms Dyer's night in won't only be for women.
"I invite men, because men do watch their loved ones go through cancer and I don't want to alienate them," she said.
"But the catch is, if they come, they're our servants for the night."
Ms Dyer's teenage children's friends will also come along, something she said was important.
"They need to get involved – it's important they're aware of the risks of cancers and they're never too young to start checking," she said.
Ms Dyer, who is also an avid supporter of Relay for Life and other cancer fund-raisers, said the deadly disease was too common.
"At the end of the day, everyone knows someone," she said.
"We desperately need money to find a cure, we're losing too many."
To get involved and show your support for the 163 women diagnosed with breast cancers and 57 women diagnosed with 57 gynaecological cancers across Cardinia Shire each year, host your own Girls' Night In by registering at www.girlsnightin.com.au.