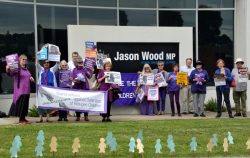 By Bonny Burrows
Local grandmothers have continued their fight against Australian asylum seeker policies, this time taking to the streets of Berwick.
Following on from the group's 8 October's Emerald protest where members demanded the Australian Government stop refugee and asylum seeker suffering on Manus Island and Nauru and "bring them here", Grandmothers Against Detention of Refugee Children rallied outside La Trobe MP Jason Wood's office on Thursday 12 October in a call for his support.
When they found that Mr Wood was not at his office, the group of about 15 took the opportunity to march through Berwick's CBD, singing We Shall Overcome and reciting poems by refugees.
Member Virginia Schneiders said the community responded positively.
"We had good reactions, toots from passers-by, waves, people were generally pretty supportive," Ms Schneiders said.
Ms Schneiders met with Mr Wood the following day to discuss the treatment of refugee and asylum seekers on Manus Island and Nauru.
She said that while there was "some rapport built up", the local MP stopped short of voicing his support for mainland settlement, something government policy current prohibits.
"He did say the government was working on resettlement but there was nothing I would call definitive about what he was saying," Ms Schneiders said.
"He really needs to take a note of this issue. It's a very small margin in his seat and this is something that has a lot of support locally."
Jason Wood was contacted by the Gazette for comment on 12 October, but as of 17 October had not responded.