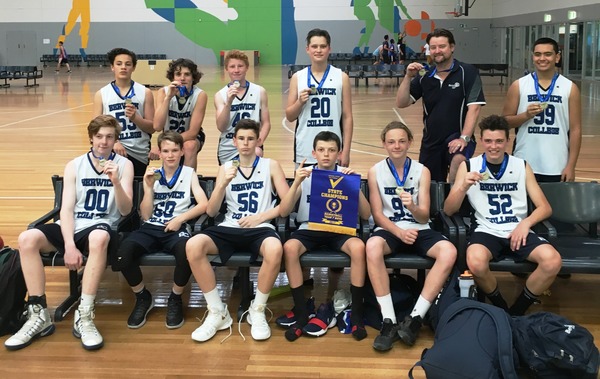 By David Nagel
Three pointers may play a huge role in the game of basketball, but it's a commitment to three important points that is paying off for the Berwick College Basketball Academy after its state title success in late November.
The school's Year 7 Boys were crowned state champions after defeating St Joseph's Echuca, 39-31, in the School Sports Victoria grand final.
Berwick had five teams progress to the finals and a staggering 12 made it through to the Victorian College Championships – the most of any school in the state – a huge achievement for a program that has only been running for four years.
Director of Basketball Academy, Chris Pentland, explains the birth of the program in more detail.
"It all started because of my daughter to be honest," Pentland said.
"She was chased by another basketball program in the region, we were interested, but they take the kids out of their school program for 10 periods a week, which I wasn't comfortable with.
"So I designed my own program, judging the students on their basketball and academic skills, and behaviour, all evenly. The school jumped on board and here we are today. Schooling has to be number one with anything we do and, after just four years, it's been pretty successful to date."
In April each year the college has tryouts for Grade 6 students, with 120 trying out to make a final acceptance list of 50. The school's current crop comes from as far and wide as Cheltenham, Drouin and Langwarrin, joining a core group from around the Berwick area in the elite program.
"I think the specialised coaching we offer is most appealing, and the kids also do a full school program," Pentland said.
"The english, maths and science is the same as the other kids at the school but their PE block is modified. In Years 7 and 8 they have two sessions training with the academy, two doing fundamentals, and then a period of sport science.
"In Years 9 and 10 the program slips into their elective program and then we pull it back in Years 11 and 12. Did we expect it to be this popular and grow so quickly, probably not, but when you've got the balance right between academic and the kids' passion – then you've got a pretty good product."
The academy's coaching staff has been littered with stars since its inception, with former Melbourne Tigers player Gerard Leonard, Lester Strong from SEABL, local Big V product Shannon Davies and Dandenong Rangers star Carley Mijovic among those to have imparted their knowledge.
"And we also have Ash Arnott, who has been a college recruiter in America, and that's a big benefit for the kids who have dreams of making it into the US college system," Pentland said.
The academy already has some impressive runs on the board, with Jaz Shelley – who will return to the school next year after two years at the Australian Institute of Sport in Canberra – ranked the number-one guard in the world for her age group.
Shelley, a member of Australia's gold-medal winning team at the Under 17 World Championships, is expected to receive a full scholarship at a US college next year.
To cap off a great year for the school, the Year 7/8 Boys were crowned state champions at college level, winning their quarter, semi and grand finals by double digits against St Joseph's, Rowville and MacKillop respectively.
Berwick College will finish the year with six teams competing at the current Australian Schools Nationals Tournament from December 3 to 8, while a Year 10 group is currently on tour in Texas, returning on Thursday 21 December.