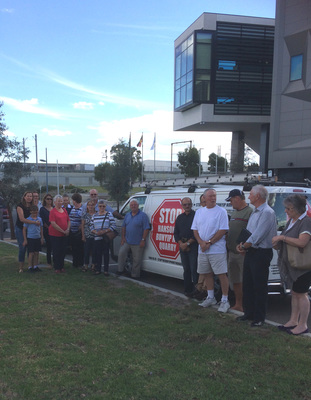 By Bonny Burrows
Campaigners against the proposed Bunyip North granite quarry have briefed Cardinia Shire Council on their concerns.
The Mount Cannibal and District Preservation Group, representing residents of Bunyip, Bunyip North, Garfield, Garfield North, Tonimbuk and surrounding areas, met with councilors at a public meeting, held at the council offices on Monday 12 February.
There, the group presented its argument that the quarry was unsuited to its proposed site, just 500 metres from local icon Mount Cannibal.
"We don't have an issue with a quarry, materials from quarries are needed by everyone, what we're saying is it's in the wrong location," Group secretary David Bywater said.
"It's Gippsland; there are other much better suited locations around."
Mr Bywater said the meeting, which the group used to ask the council to advocate to state and federal governments on its behalf, went well.
"The full councilors and two youth councilors were present which was terrific. They were very enthusiastic," Mr Bywater said.
"The gallery was filled to capacity with interested community members who listened attentively, and the councilors showed their interest in the proposal through its questions."
Mr Bywater, a Garfield North farmer, has been a long-time opposer of the quarry, dating back to its beginnings 12 years ago.
Among other concerns, he believes the quarry would "irrecoverably damage the area, its ecology and bio-diversity, and will make a beautiful area unsuitable to live in and enjoy."
"If this goes ahead, our grandchildren will be riding their horses around a B-double (truck)," Mr Bywater said.
He said despite the "long, drawn out process", residents against the quarry weren't backing down.
"This has been an issue which has been ongoing since 2006," Mr Bywater said.
"Twelve years is a long time and does take its tool, however community opposition to this proposal isn't tiring, it's growing.
"It was important the council was aware of our concerns."
Cardinia Shire Mayor Collin Ross was contacted for comment.