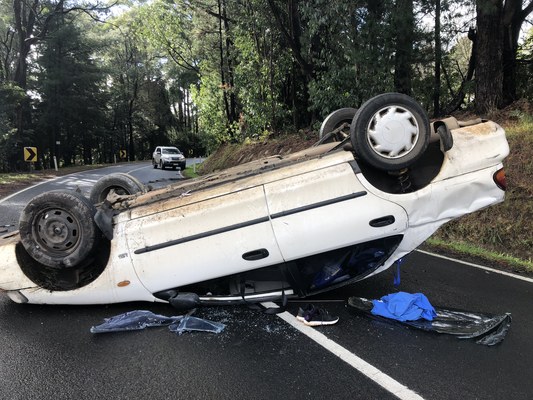 By Kyra Gillespie
A Gembrook woman in her sixties has been taken to The Alfred Hospital with non-life-threatening injuries following an accident on Gembrook Road this morning.
The woman was travelling towards Pakenham when she lost control of her vehicle and mounted an embankment near Clink Road Pakenham Upper just after 10.30am, flipping the car on its roof.
She was the sole occupant of the vehicle.
Truck driver Curtis Smith was one of the first on the scene of the accident.
"I was driving my truck down this road when I saw a car on its roof and a lady lying face down on the ground," he said.
"There was already another woman there helping her. She had blood coming out of her hand and said her head hurt.
"She wanted her husband to know what had happened, so I reached into the car for her phone to call him. It was hard to get through to him because he was working.
"When I finally reached him she was already on the way to The Alfred so he went straight there."
Acting Senior Sergeant Daniel Wood said speed and alcohol did not appear to be a contributing factor to the accident.
"She regularly drives this road and there's no indication that speed or alcohol were a factor in this case," Snr Sgt Wood said.
"This is a reminder to people to drive to the conditions, be careful on wet roads and to not become complacent on roads they are familiar with."