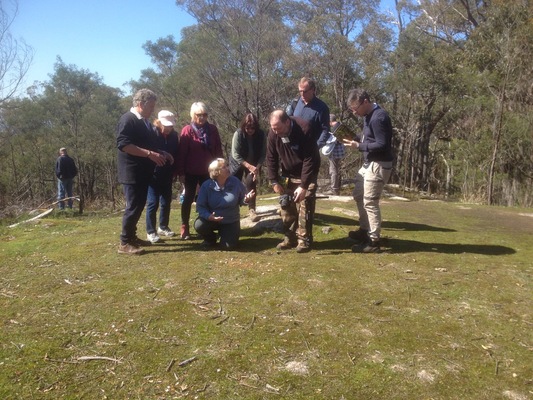 Volunteer group 'Friends of Mt Cannibal' have strengthened their protests against Hanson Construction Materials' proposed Bunyip North quarry off the back of an eye-opening lesson on the mountain's threatened flora and fauna.
Paul Piko, orchid expert and brother of late-photographer David Piko, took local volunteers on a walk up Mt Cannibal to show them the mountain's unique orchids.
A booklet published by the Friends group two years ago features over 50 varieties of local orchids, all photographs of which were taken by David Piko, who made countless trips to the mountain over many years.
"People may not know that the status of the reserve was recently upgraded to being of State Significance," Friends of Mt Cannibal member Lindsay McNaught said.
"A major reason for this was recognition of the variety of orchids which grow in the reserve, including some listed as nationally threatened.
"Late winter is the time when many of the orchids can be seen, so Paul took us on a walk to show us the flowers.
"It was a beautiful day so there were some hundreds of people visiting the mountain anyhow, as there are on any sunny day
"Some were running, some were walking, but all others went a lot faster than the orchid group who regularly stopped and peered at the ground while Paul explained the various characteristics of each species."
He said the insightful expedition further cemented the group's concerns about the proposed quarry.
"We were worried to hear that these beautiful flowers which have to date survived so well at Mt Cannibal compared with other locations where they previously existed might be under threat.
"Concern was expressed about the impact of dust and vibration if Hanson were to gain approval to quarry the farmland just to the east of the reserve.
"Friends of Mt Cannibal and hundreds of local residents are opposed to the proposal for a raft of reasons including potential impact on water resources, jobs and the environment in general.
"On Saturday though, the focus was on those beautiful little orchids."