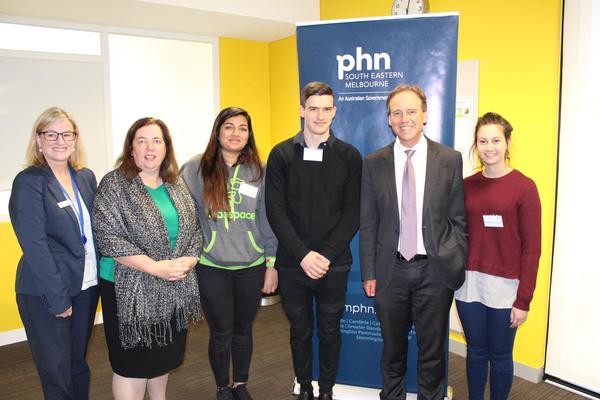 The Federal Minister for Health, The Hon Greg Hunt, has launched BounceBack, a service designed and funded by the South Eastern Melbourne Primary Health Network (SEMPHN) for young people experiencing severe and complex mental ill health.
BounceBack will provide early access to free treatment and team clinical care for young people (aged 12-25 years) who are experiencing, or at risk of, severe and complex mental ill health.
SEMPHN Chief Executive Officer, Dr Elizabeth Deveny, said it took two years to develop the service, which is a first-of-its-kind for the region.
"Services like these, for young people, are quite limited in our catchment. We've taken the time needed to consult and develop this service to ensure these young people get the necessary treatment, early, so they are well and healthy throughout their lives," she said.
The intensive treatment service is a combination of primary health care and GPs, specialist private mental health services, alcohol and other drug services, non-government services, and educational and vocational providers.
"This service promotes a better integration of primary care services with community-based private psychiatry and state mental health services," Dr Deveny added.
Minister Hunt said he was thrilled to see a new service for young people being rolled out at a local level.
"I want our children and young people to have access to the information, skills and treatment they need to face life's challenges and to know they have the right support."
"Improving mental health services is a key pillar of the Government's long-term national health reform plan and today's announcement builds on the Federal Government's record levels of investment in mental health," he said.
The service will be delivered by Youth Support & Advocacy Service (YSAS) across Frankston and the Mornington Peninsula, while EACH will deliver the service across Dandenong/Kingston and Casey/Cardinia.
Around 600 young people with, or are at risk of, severe mental illness are expected to benefit from the service each year.
South Eastern Melbourne Primary Health Network (SEMPHN) works primarily on behalf of the Australian Government to improve local health care. Anyone can call and refer to BounceBack by contacting SEMPHN Access and Referral on 1800 862 363.