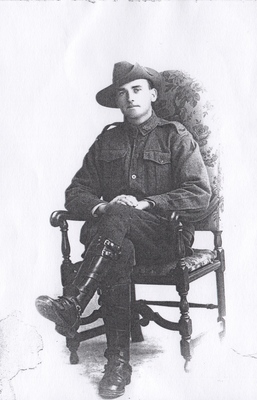 A century on from the end of World War I we acknowledge their service …
Lest we forget.
Driver James Patrick Fennell
Born: 10 August 1891 Pakenham. Died: 13 December 1950 Warragul.
Enlisted: 25 October 1916.
Served: Western Front.
James was the son of Michael and Elizabeth Fennell of Toomuc Valley, who worked locally as a contractor and horse driver. At one stage, he had a contract to "metal" (surface) the Toomuc Valley Road for the Berwick Shire Council.
James initially sought an exemption on the grounds that his aged father and sister were totally dependent on him, but was refused by the Exemption Court at Dandenong.
He then enlisted voluntarily on 25 October 1916 and embarked for Europe in May 1917. When he arrived, he was suffering from the mumps, spending some time on the "sick lists" before proceeding to the Western Front. James then served as a horse driver in several units and in November 1918 James contracted the influenza, which was raging across Europe.
After returning to Australia in September 1919, he was given a "hearty welcome" from his friends.
Later, James worked around Dimboola for a time, before marrying Mary Agnes Poynter in 1923. They lived in Brunswick until the late 1920s, then moved to Trafalgar and he died at Warragul in late 1950 aged only 59.
This is an extract from Patrick Ferry's book A Century After The Guns Fell Silent – Remembering the Pakenham District's WWI Diggers 1914-18.
For more details on this and other profiles in the book, head to the website www.pakenhamww1.com