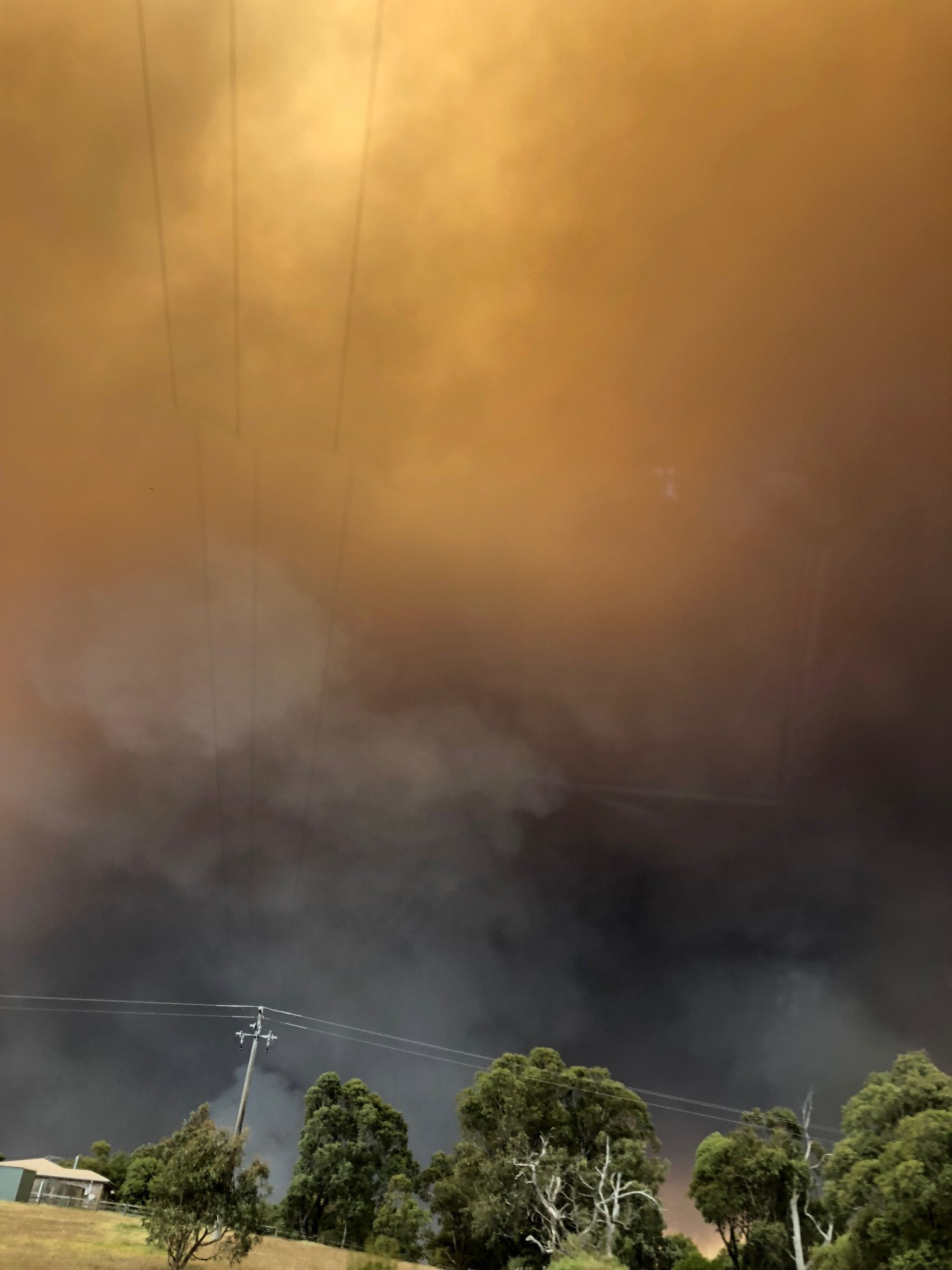 The many hundreds of people who left homes in the path of the Bunyip State Park fire face days of uncertainty.
Deputy incident controller Don White from Forest Fire Management Victoria told a community meeting at the Cardinia Cultural Centre on Saturday 2 March that there was no forecast of a change in weather conditions until Wednesday and that the fire was likely to burn for days.
On a positive note, there was no forecast of any radical change in wind speed or pattern over that same period, meaning it would remain reasonably predictable.
Mr White said the fire was headed towards the Princes Freeway – which has been closed in both directions – and that there was a real possibility it could cross the freeway to the south by the end of the day.
He said there was little chance of catching the fire within the forested area and that it could spread if it made its way onto surrounding grassland.
There are fears the fire could affect power supply to Melbourne if it damaged high voltage power lines that run from the Latrobe Valley to Melbourne. He said the power line easements were relatively clear of vegetation, but that heavy smoke could cause arching.
Mr White said there was a big team in Dandenong issuing constant warnings and he urged people to stay up to date by using the Vic Emergency app and by, listening to ABC Radio 774 and communicate with friends, sharing as much relevant information as possible.
He said it was critical that people remained as informed as they can and made early decision about where they are going and what they are doing.
As of 2pm there had been no reports of structural damage by the fire.
The CFA has established a staging area at the Nar Nar Goon Recreation Reserve.
Five fires started in the Bunyip State Park by lightning strikes on Friday and condensed into one major fire on Saturday morning.
Mr White said resources were being stretched by many fire incidents across the eastern part of that state.
An emergency warning is still in place for the towns of Bunyip, Bunyip North, Cornucopia, Garfield, Garfield North, Gembrook, Gentle Annie, Labertouche, Longwarry North, Maryknoll, Nar Nar Goon North, Tonimbuk, Tynong, Tynong North.
A Watch and Act Warning has been issued for Beenah, Gembrook and White's Corner.
Around 2.30pm, a Watch and Act Warning was issued for Labertouche and towns south of the Princes Highway Cora Lynn, Iona, Longwarry, Longwarry North, Vervale, Bunyip, Garfield, Jindivick, Nar Nar Goon and Tynong.
Cardinia CEO Carol Jeffs said a relief centre had been established at the Pakenham Hall, which would stay open until there was no longer a need for it.
Ms Jeffs said they had been inundated with offers of help, but had to concentrate at this stage on those in need of immediate relief.
At this stage council and other relief agencies are struggling to keep up with the offers of help.
"It shows a generous community spirit, but we have all the help we need at the moment. Keep an eye out and we will let people know when we need more help."
The Star Theatre was packed to capacity for the community meeting.