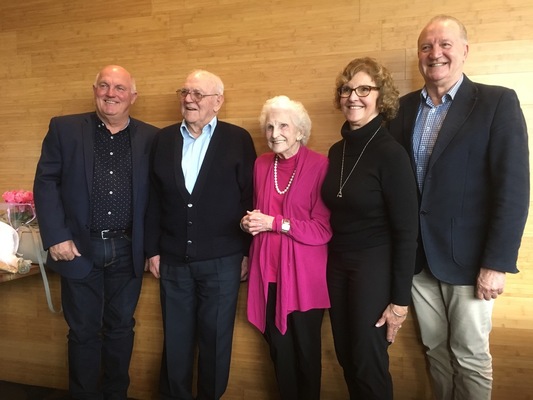 By Jessica Anstice
Hugh and Dorothy Hodson celebrated their 70th wedding anniversary with family.
The Berwick couple – along with their three children Jeannette, Neil and Colin – enjoyed their time at Shanikas in Pakenham for the very happy occasion.
The pair married on 4 June in 1949 in the Bentleigh area, where they spent their younger years.
In the mid-1960s Hugh and Dorothy (nee Whyte) moved to a new home on 18 acres in Hallam before shifting their real estate business shortly after.
They worked together, with Hugh as sales manager and Dorothy in property management and later on, their sons joined them in the business.
Both were very involved with the Narre Hallam Football Club, so much that they were awarded life memberships for their tremendous contribution.
Hugh was elected to Berwick Council and his term as mayor showed what a great team the pair make.
Now both in their early 90s they live at Nar Nar Goon and take great pleasure from visits and news about the grandchildren and families.
They also enjoy their strong relationships with their great grandchildren, encouraging them with their schooling and sporting activities.