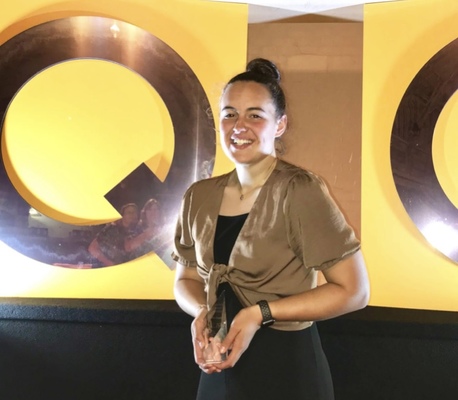 By Danielle Kutchel
Undertaking a sewing project to provide warmth and home comfort to Australian servicemen and women, Jessica Layton could be considered something of a community hero herself.
The selfless teen has recently been recognised for her work in providing laundry bags and a quilt for Australia's armed forces.
At the Australian Quilt Convention held earlier this year, Ms Layton was presented with the Shining Light Award, which recognised the achievements of the young quilter.
As part of her school Personal Best project in 2017, Ms Layton sewed 27 laundry bags and a quilt for Aussie Hero Quilts and Laundry Bags, an organisation which then delivered the items to deployed Australian service men and women.
She says she received many words of encouragement from other quilters at the awards ceremony, who seemed pleased to see a teenager pursuing their hobby.
In a way, the student says, the charity contribution runs in the family: her mum sews for Aussie Hero Quilts too.
"Originally when I was going to do my Personal Best project I was thinking about doing a quilt for myself, but … then I decided instead of making a quilt for myself that I would make a quilt and laundry bags for that organisation."
She didn't know much about sewing at the beginning of the project, which made it an ambitious challenge.
"Mum pretty much taught me everything I know!" she laughs.
Nevertheless, her crafty pieces were completed in the space of a couple of months.
She recalls that the service men and women who received the gifts were emotional.
"It means so much to them," Ms Layton says, "They basically explained how it makes them feel to know that random strangers they don't even know put in all this time and effort to make something for them."
Her project also impressed her teachers and she scored well on the assignment.
Since completing her Personal Best project, Ms Layton has continued helping her mother to make laundry bags to send off to soldiers, working around her school commitments.
"I learned so much from the project and from the way that it makes people feel, as well as the skill of sewing – it was really nice to have my mum teach me that," she says.