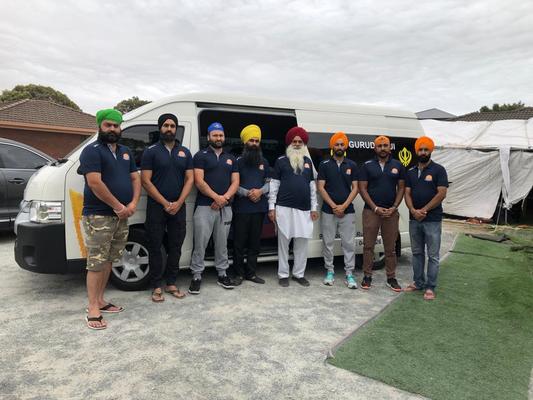 By Mitchell Clarke
As pandemic panic fills the community, Pakenham Sikh Temple volunteers are fuelling positivity and instilling hope by cooking and delivering free food to the elderly and vulnerable.
About 10 to 15 volunteers will provide a free vegetarian feed, consisting of rice, vegetables, chickpeas and lentils, for those in need.
The inspiring initiative follows weeks of panic buying which has seen supermarket shelves stripped as people face the prospect of lockdowns.
"We want to send a message in the community that we're showing a positive side during a negative time," volunteer Charan (Monty) Sodhi said.
"It's a very tough time, I'm sure the government is doing everything they can, but we are still seeing people panicking.
"We just need positive thinking to get through this."
From Thursday 19 March, the community will be able to contact the Gurudwara Baba Budha sahib ji to request a meal, which will be cooked at their community kitchen in Pakenham.
For the elderly and vulnerable, dedicated volunteers will deliver the meals to their doorsteps between 6pm to 8pm on the same day, provided their request is put in before midday.
"These are the most vulnerable people in the community and it's hard for them to travel with limited access, so we've decided to offer this for them," he added.
The program will run until at least the end of March, however the group is committed to continuing for as long as necessary.
"We're just testing the waters but we have enough supplies to last for a while," Mr Sodhi said.
"Hopefully in a few weeks, once everyone has stocked up the shops will be back to normal again.
"There is no shortage of food or material in Australia. Supermarkets are trying their best to put everything on their shelves but people are just buying too quickly, and the shops can't keep up."
Volunteers will travel to households across Pakenham, Officer, Berwick, Kooweerup, Nar Nar Goon but said they would travel further if necessary.
"If someone is in desperate need, we will travel there regardless of how far away they are," Mr Sodhi added.
"We want to put something out to the community that we're here, we're together and we will come out of this as a team even stronger."
To book your food orders, call or text 0469 826 283 or 0433 483 335 by midday.