By Jessica Anstice
This year marks 75 years since the liberation of the Nazi concentration camps in Poland. Holocaust survivor, Richard Rozen, shared his unique, heartbreaking, yet touching story.
It was winter and the cold was burning him.
Six-year-old Richard Rozen hid out with his parents in a cellar cupboard on a farm for one year and one month.
When the Germans invaded Poland in 1939, Mr Rozen and his parents were forced to leave all their belongings behind and flee their home in Radom.
Before the war, his father was a doctor and his mother was a mothercraft nurse.
He had a nanny who often took him to a local park where he would play with his first 'girl friend' – Helenka, she was also five-years-old.
"I had a privileged life before the war. After the Germans arrived we went into hiding and that's when I realised that things were not going good for us," he said.
"My father had saved up some money and we rented a cupboard – which was about two metres long, one metre high and about a metre and a half wide.
"During that time, we couldn't talk because the farm owners did not want to get caught."
For Mr Rozen, life in that cupboard was "quite good".
He said although it was different, he became used to it and eventually, it felt normal.
"First of all, I got to see my family every day. My father started my first year of school in the cupboard when I was about six and a half years old," he recalled.
"Because it was quite dark in the cupboard, he used to trace, on the palm of my hand, numbers and letters.
"I had two lessons per day and I became quite good at it – I could count up to 100 and I knew the alphabet backwards and forwards."
In terms of food supply, the farmers provided the young family of three a bowl of soup and bread each day.
They had two buckets of water: one was used for washing and drinking, the other was used as a toilet which they emptied in the middle of the night in order to lay low.
When money ran out, they were asked to leave their safe haven.
"We started wandering in the forest. It was dark and snowing. Suddenly something was happening far away – the sun was rising," he remembered.
"I hadn't seen the sun in over a year so I ran up and down, up and down, until my father hit me in the head and said 'keep quiet, close your eyes'.
"That was a very exciting time for me."
But the fun didn't last for long.
Mr Rozen and his parents were stopped by a number of guards in the forest.
They were ordered into an interrogation room, where for the first time, Mr Rozen laid eyes on a German officer.
"His boots were nearly as tall as me and his buttons were so shiny," he recalled.
"My father tried to tell them that we are not Jewish and we were just wandering around.
"They asked us to take our trousers down and then we were taken by truck to a detention centre in the ghetto."
The Nazis had established Lublin ghetto for all the Jews in the area in order to segregate and confine them.
Living conditions in the ghetto were described as miserable – hundreds of people would die during the nights, including young children.
After six months in the ghetto, it became their "turn" to go to an extermination camp.
"But we were lucky. Someone recognised my father and said 'Doctor, we need doctors in the forest'," he said.
"When we got to the forest, my father was interrogated to make sure he was a doctor.
"While my father worked in the forest, my mother and I were taken to a Polish village."
Because of what had happened to Mr Rozen when he was interrogated by the German officers, his mother asked him to disguise as a girl in order to protect him.
Mr Rozen said he was a "nice looking" girl, as his hair was long after not having cut it for about two years.
"My problem was, because I couldn't speak like a girl, I had to become a girl that was not quite well – a little bit backwards," he laughed.
"I didn't speak. I could hear, but I didn't speak. Boys used to make fun of me."
"All the boys used to kiss me and when I would speak, they would stop kissing me."
That went on for six months.
He then spent the next nearly two years in a Polish partisan group in the forest while his father worked in the hospital.
While practically living in pine trees alone at just eight-years-old, the night's temperature could get down to minus 13 degrees.
"I was sheltered in the trees so that's where I spent most of my time," he explained.
Being the youngest in the partisan group, Mr Rozen had a lot of time on his hands.
"One morning I climbed down from a tree, it was my second winter, and I found a big human leg," he said.
"I took that leg to my father because he was a doctor and I thought that it would be useful. It took me nearly half a day to get that leg to my father.
"When I gave it to my father, he started crying. It was the first time I saw him cry. He thought there was something wrong with me but I didn't think so, I just thought it was a good leg."
That was the last time he ever saw his father.
Twenty three members of Mr Rozen's family were killed during the holocaust.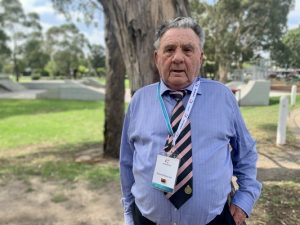 After liberation he stayed with family in Paris and instead of being welcomed, the family sent him to an orphanage for nearly five years.
He believes they did this because he ate too much and with his hands.
In 1951 Mr Rozen united with his mum and they arrived in Australia to stay with his uncle.
After his experience of being sent to the orphanage from eating too much food, for his first meal in Australia he sat on his hands and did not eat.
He was persuaded to have milk and toast with honey on it.
Mr Rozen said he had truly come to the land of milk and honey.
Since living in Australia, the now 84-year-old has achieved so much.
He attended Melbourne High and RMIT, won the Victorian Chess Championship, volunteered at the Melbourne Olympics as a French interpreter, represented Australia in the World Bridge Championships in France, received an Order of Australia Medal and was appointed an Australia Day Ambassador.
On Australia Day in January, Mr Rozen told his story at the Kooweerup Community Centre.
"I survived with some help, good luck and determination," he said.
"I cannot forgive and cannot forget those perpetrators. I have never returned to Poland and don't plan to go there.
"It is important to inform and educate people as to what happened during the Holocaust."
Mr Rozen married his wife Rysia, had two sons and now two grandchildren.
"Once again I enjoy a privileged life."