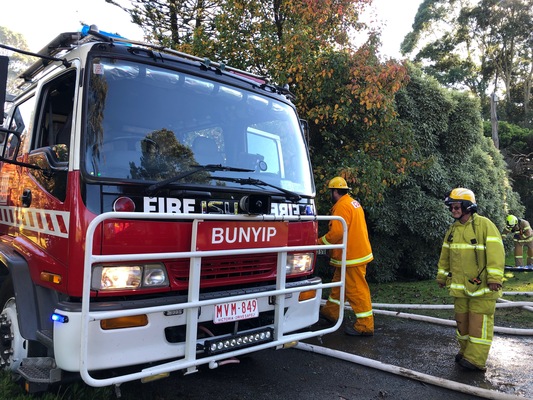 By Mitchell Clarke
An Iona house will likely need to be demolished after a serious fire tore through the property.
Emergency services were called to the property on the corner of Bunyip-Modella Road and Main Drain Road just after 1pm on Tuesday 26 May.
Two elderly patients, believed to be the home owners, were inside the single-storey brick property at the time but managed to escape the flames.
Paramedics were on scene to treat the patients, however it's understood the patients wouldn't be transported to hospital.
Up to seven trucks, including crews from Pakenham, Tynong, Bunyip, Longwarry and Drouin responded to the scene.
The fire was deemed under control just before 2pm.
A CFA spokesperson at the scene told the Gazette that the blaze wasn't believed to be suspicious.
He said the fire started at the back of the property.
"Yeah it was a serious fire, the house is probably totalled. It will most likely need to be demolished," he explained.
Victoria Police and Powercor were also in attendance.