By Mitchell Clarke
Supermarket shelves were again being stripped across the Cardinia Shire on Tuesday night, shortly after Premier Daniel Andrews announced stage three restrictions.
The bizarre panic buying phenomenon – which rose to prominence when the state was first plunged into lockdown at the end of March – brought out the worst in humanity, as people frantically hoarded supplies.
Despite supermarkets remaining open for essential food shopping throughout the six-week shutdown, the Gazette understands various supermarkets across Pakenham and Officer were inundated with shoppers after the lockdown announcement on Tuesday afternoon.
The restrictions also coincide with problems replenishing stores with chilled and fresh produce lines, after employees at key distribution centres tested positive to Covid-19.
"Cardinia Lakes was crazy last night at about 4pm," councillor Graeme Moore said.
"I've been told by workers that people were just racing in to get stuff … there was like a stampede of people."
Officer resident Daniel Hook was at a Coles store in Berwick to purchase kitty litter and said the scene was "just insane".
"It was disappointing to see that no one learns," Mr Hook said.
"If you're stocking up because you're worried about panic buyers, you're panic buying."
Others took to social media to vent their frustration at the bizarre behaviour.
"I went to Lakeside for one item and the line to enter the centre was outside. That's not usual, that's moronic. I left because I know that tomorrow the supermarket will be open," one shopper said.
"I was walking next to two people plus one child with an overflowing trolley. From what I could see on the outside I counted six loaves of bread and two cartons of long life milk with eight to 10 litres in each. Coincidence? I think not," another added.
As a result, Coles and Woolworths have been forced to re-introduce temporary purchase limits for some staple items.
Coles chief executive Steven Cain said while it was disappointing to reinstate the limits, it was an important measure to help manage demand for staple items at a critical time for many customers in Victoria.
"Our thoughts are with the many Victorians who will now be required to isolate at home, and we will continue to work with the state government to provide whatever assistance they need," Mr Cain said.
"To help provide a safer shopping experience in our stores, we would ask that customers continue to treat our team members with respect, observe social distancing in stores, make use of the sanitising stations at the entrance, and plan their visit so they can be 'speedy shoppers'."
The Gazette visited a number of supermarkets on Wednesday morning, 8 July, and observed no crowds and generally full shelves.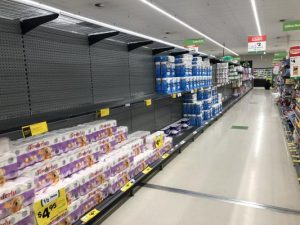 "There has been no panic buying, no nothing. It was nothing like Tuesday night. I didn't feel threatened at the shops with people getting too close to me, it was pretty good," shopper Gary explained.
"There's more security here this time round so I'm guessing they've learnt a bit from last time."
Coles product limits – two items on each of the following products categories across its Victorian stores and online:
– Chicken Breast
– Hand Sanitiser
– Chicken Thigh
– Liquid Soaps
– Chilled Pasta
– Long-life milk
– Eggs
– Mince Meat
– Flour
– Paper Towels
– Fresh White Milk
– Pasta
– Frozen Chips
– Rice
– Frozen Desserts
– Sugar
– Frozen Fruit
– Tissues
– Frozen Vegetables
– Toilet Paper (one item per person)
Woolworths product limits – two items on each of the following products categories across its Victorian stores and online:
– Frozen Vegetables
– Frozen Potatoes
– Frozen Fruit
– Frozen Fish
– Frozen Poultry
– Pre-packed Sausages from the meat department
– Pre-packed Burger Patties, Rissoles and Meatballs from the meat department
– Pre-packed Carrots
– Pre-packed Potatoes
– Chilled Fresh Milk
– Sliced Bread Loaves – from the bakery department
– Frozen Pizza
– Frozen Party Snacks
– Frozen Meals
-Frozen Seafood
– Chilled Juice
– Pre-packed Bacon
– Tissues
– Toilet paper
– Dry Pasta
– Eggs
– Flour
– Hand Sanitiser
– Long Life Milk
– Mince
– Paper Towel
– Rice
– Sugar