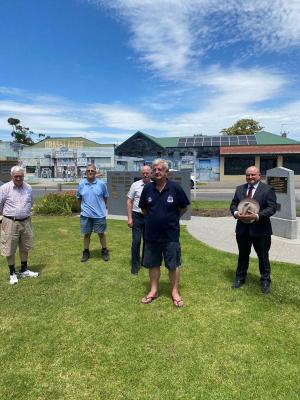 By Jessica Anstice
Nar Nar Goon RSL has received nearly $10,000 to put towards projects that commemorate wartime history.
Community groups and organisations in Cardinia will be better equipped to remember the service and sacrifice of current and former Australian Defence Force personnel thanks to the Federal Government's Saluting Their Service Commemorative grants program.
Member for La Trobe Jason Wood congratulated Nar Nar Goon RSL sub-branch for receiving a $9854 grant.
"La Trobe will join communities across Australia in benefiting from a funding boost to help commemorate the role that Australian service men and women have played in shaping the nation," Mr Wood said.
The project will install new plaques and plinths dedicated to local service personnel and the tri-services at the Nar Nar Goon RSL Memorial Park.
New plaques will ensure that the service history is captured and preserved in the local community.
"Thank you to all the community organisations who work tirelessly to ensure that our service personnel get the recognition that they deserve and thank you to all Australian service personnel for your service and sacrifice," he said.
More than $2.2 million in funding was provided through this round of the Saluting Their Service Commemorative grants program.
Mr Wood said the Nar Nar Goon project will play an important role in educating future generations about the service and sacrifice of Australian service men and women.
"These grants will help community groups and organisations continue their important work in commemorating our service personnel and support those projects and activities which promote appreciation and understanding of the experiences of service," he added.
The Department of Veterans' Affairs (DVA) recognises the potential impact Covid-19 may have on recipients completing their projects, with social distancing and other public health measures in place across the community.
DVA is committed to working with recipients who are affected on options to continue their projects.