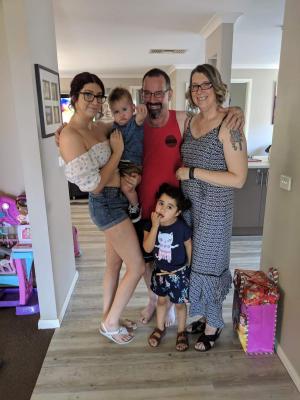 By Gabriella Payne
Donations have poured in from far and wide to help a beloved local family in the wake of a house fire, which sadly claimed everything they owned.
Since the blaze destroyed the Tulloch family's Pakenham home on Thursday 14 October, the local community have managed to raise over $10,000 to help support them in their long road to recovery, and messages of kindness have been flooding in.
The family's father, Geoffrey Tulloch, was severely injured in the blaze as he tried to extinguish the fire, and currently remains in hospital.
Due to Covid restrictions, his family have been unable to visit him as he undergoes multiple surgeries and skin grafts, but family friends Monique and Kaitlyn said he remained "super brave and strong" and was staying "in high spirits".
Thankfully Mr Tulloch was the only person home at the time of the fire, but sadly a number of the family's pets also suffered burns and/or smoke inhalation in the blaze.
Their dog Oreo and cats Dexter and Gemmy are currently undergoing treatment for their injuries, but one of their cats Elton is sadly still missing – believed to have run away during the incident.
Unfortunately, nothing could be salvaged from the family home after the flames tore through the house, and the family have been left trying to pick up the pieces.
As soon as their close family friends Monique and Kaitlyn heard about the tragic news, they decided they had to do something to help the family get back on their feet.
"We have known the family for six years and they are one of the most loving, caring and compassionate families we have ever met," they said.
"They would do anything to help their friends and family no matter how big or small.
"As soon as we found out about what happened, our first reaction was to [try to] help, as they have always helped us whenever possible.
"We started a Gofundme page to reach out to the community and try to relieve some stress on their shoulders," the pair said, but they never expected it to receive as much support as it has.
"We were always expecting a good outcome, but the way the community has come together in this time has been so heartwarming.
"The page [received] almost 1,000 shares and 141 donations in just seven days… and [it keeps on] growing daily.
"It's been an overwhelming response from the community and we are so proud to be a part of this and sharing the kind gestures," they said.
The family (made up of Geoffrey, his wife Paula, their multiple children from previous marriages and adopted 8-year-old daughter Pria) will have a long road to recovery ahead of them, and Monique and Kaitlyn said that any donations that the community could spare were greatly appreciated.
"At this moment, the family are in need of men's clothing size M and 32 pants and size 9 shoes, along with women's size 8 shoes and size 1 girl shoes," they said.
"First aid supplies and any donation no matter how small will go a long way for them.
"They will be needing furniture soon [as well], however at this point, they don't have anywhere to store it until they find somewhere."
Monetary donations can still be made to the Tulloch's Gofundme page as well, with each dollar going towards helping the family rebuild their lives after the accident.
Monique and Kaitlyn encouraged anyone who knew the family personally to reach out and also offer support if they could, even if it was just a listening ear.
"If anyone reading this knows the Tulloch family personally, please reach out, be an ear [as] they will need as much love and support [as possible] through this difficult time – even if it's just somebody to talk to," they said.
"If you are in the Cardinia Shire area and see a stray ginger cat, please take it to the closest vet and reach out as this may be Elton [the family's missing cat].
"We want to say a huge thank you to everyone who has already been so generous in donating and sharing [the Gofundme page] – it means the world to the Tulloch family."
To help support the Tullochs during this difficult time with either money, clothing or furniture, head to https://www.gofundme.com/f/loving-family-who-lost-everything-need-your-help