A group of Access Bars Practitioners are offering free 'Bars' sessions to locals this month in honour of World Suicide Prevention Week. Access Consciousness...
The Casey community is mourning the loss of former mayor John Hastie, who died from cancer on Monday 2 September, aged 80. Mr Hastie served...
A pair was arrested in Officer following a fatal hit-run collision on Clayton on Thursday 29 August. Detectives from Major Collision Investigation Unit arrested a...
Bayles Fire Brigade marked 75 years by opening its doors to the community, followed by a volunteer dinner on Saturday 31 August. The fun...
Gembrook and district community groups will have the chance to design local crime prevention projects and increase public safety as part of the state...
Bunyip Primary School's major fundraising and social event is fast approaching and the Parents and Friends committee is on the lookout for businesses to...
Ian Bennett, my father, has always been a big picture thinker. He's always contemplated not only the world around him, but the existence of life...
A Commodore with an offensive acronym for a number plate has caught the attention of Cardinia Highway Patrol and resulted in a court date...
After suffering a disappointing loss in its semi-final a week ago, it was do or die on Saturday afternoon for the Pakenham Eels rugby...
A psychological horror film that was mostly shot last year in Berwick and Narre Warren will get a big screen public debut in October...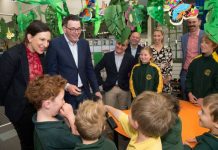 Over 20 schools in the Cardinia Shire will receive much needed funding from the state government as part of a $515 million maintenance blitz. The...
The Kmart convocation will be without answers for another fortnight as the proposed shopping complex tabled for discussion was deferred. Set to vote on the...