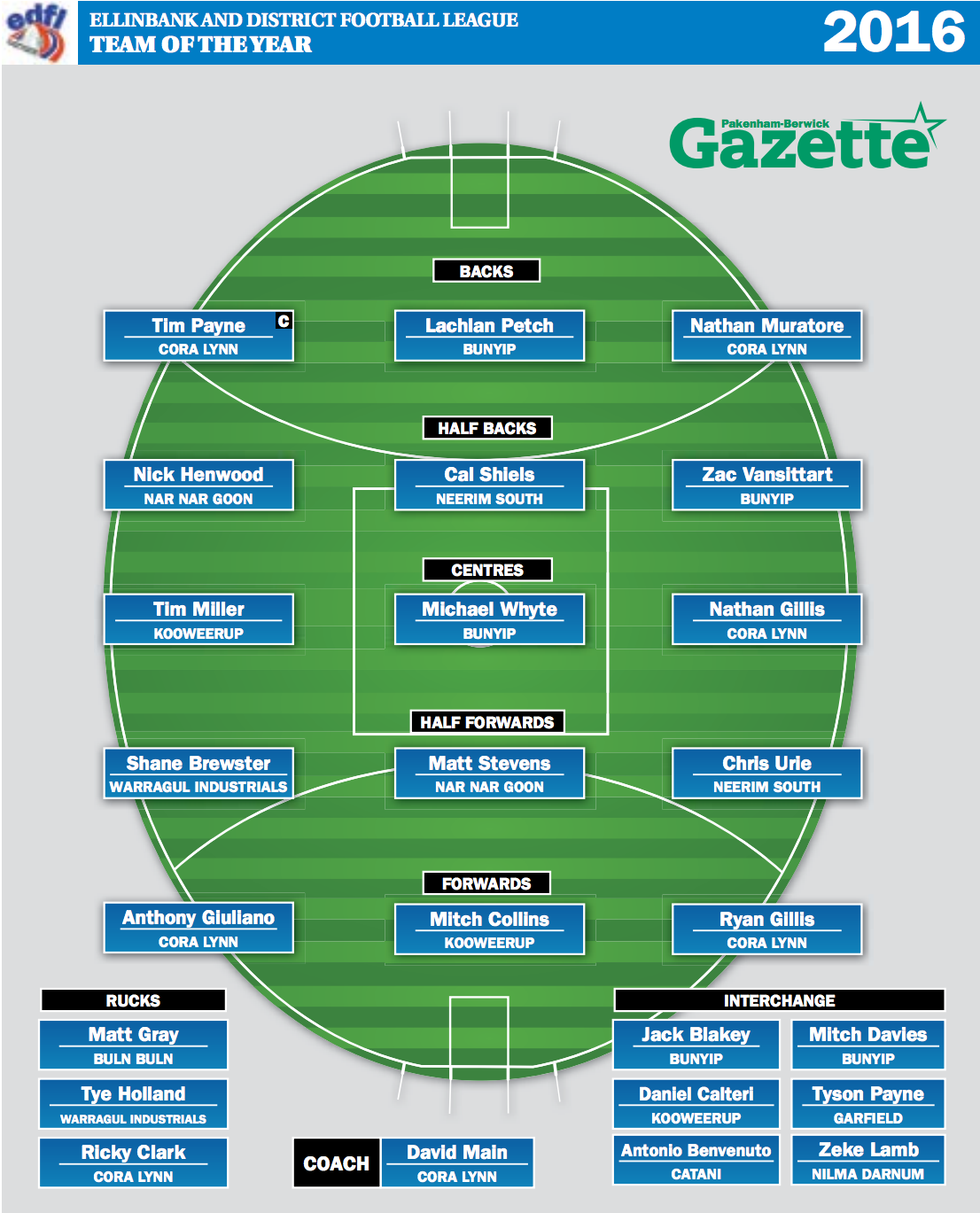 By Russell Bennett
OPINIONS are like the proverbial (it's not hard to guess which word goes here) … Everyone has one.
That's what makes the annual EDFL Team of the Year selection such an intriguing exercise. Just how can a player's worth to his side, and his quality when measured against his peers, be accurately assessed? This team has a number of standout selections, but also plenty of others that are less obvious.
Cats gun Chris Urie was the most dynamic, unstoppable force of the competition this season and is an absolute no-brainer.
Bunyip ball-winner Michael Whyte is another clear-cut choice, having gone from strength to strength throughout the season. His composure with ball in hand under huge physical pressure each and every week is his biggest calling card. That's what sets him apart – his ability to make calm decisions when the heat is truly on.
The big man stocks of this year's side are bursting at the seams. Lachlan Petch has shone deep in defence against a variety of opponents, while Cal Shiels has created countless attacks out of defence with his willingness to take the game on whenever possible.
Up forward Matt Stevens has been simply superb all year in Nar Nar Goon's inspirational campaign. Despite missing a multitude of key players for extended periods – many to season-ending injuries – the Goon went all the way to the preliminary final off the back of the likes of Stevens and Nick Henwood, along with player-coach Kris Fletcher, and super athletic wingman-ruckman Trent Noy – who were both desperately unlucky to miss out on berths in this side. Stevens edged Demon Daniel Calteri for the starting centre-half forward role, with the latter also making the team on the interchange.
Tim Miller might seem a slightly left-of-centre choice, but when a selection of senior coaches from across the league were quizzed by the Gazette on who their toughest outside running opponents were this season, Miller's name was constantly mentioned. He kicked 27 goals for the season and stood out in performances against finalists Neerim South, Cora Lynn and Nar Nar Goon.
Jack Blakey is in a similar boat. Opposing coaches rate him as a genuine nightmare match-up and he's been one of the competition's most consistent performers in the season's run home. He also impacts the scoreboard when forward of the centre, having booted 29 majors.
The number one ruck position ultimately came down to a race in three between Buln Buln player-coach Matt Gray, Cora Lynn counterpart David Main, and Kooweerup's Scott Houghton. Gray's outstanding consistency from week to week while being the first Lyrebirds player to draw the focus of opposition sides just gave him the nod over Main – whose bodywork and physicality have been immense – and Houghton, whose tap-work to the likes of Dave Collins and Ben Kerrigan has been brilliant. Collins and Kerrigan were also supremely unlucky not to gain selection in the side.
Garfield, Catani, Buln Buln and the Warragul Industrials fell short of the finals, but Tyson Payne, Antonio Benvenuto, Gray, Shane Brewster and newly-crowned two-time Alf Walton Medallist Tye Holland shone just about every week.
Main is the coach of this year's EDFL side with Cobras' captain Tim Payne picked in the same role in the team of the year. Cora Lynn was supposed to take a step back in 2016 after losing a number of premiership players from the past two seasons, but instead Main and Payne have relished the chance to lead a Cobras group hell-bent on proving its quality all over again.
Nyora young-gun Dylan Heylen; Lang Lang counterpart Dylan Wilson; Kooweerup key defenders Brodie Yapp and Craig Dyker; Nilma Darnum quartet Nick Wilcox, Harley Parker, Jean Bezzene and Tom Campbell; promising Garfield backmen Sam Batson and Angus Mitchell; forwards Luke McConnell (Nar Nar Goon) and Tyssen Morrow (Neerim Neerim South); and versatile Bunyip big man Nathan Lieshout were also in serious consideration for the team until the final cut.