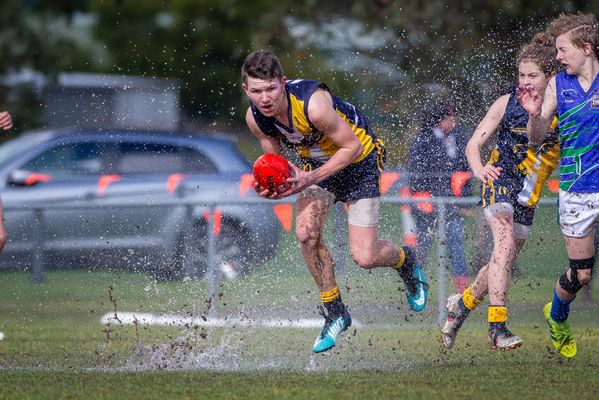 By Nick Creely and Tyler Lewis
SOUTH EAST JUNIORS
SEMI FINALS – UNDER 11s, UNDER 12s, UNDER 13s, UNDER 14s, UNDER 15s
UNDER 13s, 14s, 15s
It's that time of the year again, with the South East Juniors finals series officially getting underway on Sunday, and once again, the youngsters across the region get their chance to shine on the big stage.
Berwick White got off to a terrific start to the finals of the Under 13 Red division, defeating Beaconsfield White at Sweeney Reserve, 4.7 (31) to 3.3 (21).
The Berwick side got off to a perfect start, kicking three unanswered goals in the opening term to open up a 20-point quarter time, and despite the Eagles fighting back to play some excellent footy across the final three quarters, couldn't quite get in front at the final siren.
For Berwick, Ryan Walton was outstanding with two goals, while Liam Petherick and Brodie Lawrence hit the scoreboard. For the Eagles, James Lee, Chris Inverno and Heath Godwin tried hard and kicked a goal each.
Pakenham Maroon was also irresistible, kicking for goal brilliantly on the way to a semi-final win against Narre North Foxes Black, 16.3 (99) to 0.0 (0).
Tarkyn Nicholls took his season goal tally to 32 after a big bag of six majors, while Jackson Miszkowiec was the perfect foil for Nicholls with four goals himself.
In Under 13 Blue, Pakenham Blue held off Berwick Springs Blue, 4.8 (32) to 2.2 (14).
Both sides were fairly even at half-time, but the Lions got the jump with a two-goal third quarter, and holding Berwick Springs scoreless.
Berwick Springs fought out the game well, with Radovan Rakonjac slotting two goals, while for the victors, Levi Ducasse and Patrick James Miller each kicked two.
Down at Narre North Reserve East on Sunday in horrendous conditions, Beaconsfield Gold got its Under 14 Red finals campaign off to a perfect start by defeating Berwick Springs Blue, 2.11 (23) to 2.3 (15).
The Eagles and Springs did battle in a great semi-final contest, with the lead changing a lot in the first half, but the Beaconsfield side surged ahead in a two-goal second half to pick up the win.
Kobe Shipp and Josh Allan kicked a goal each in the terrific win, while the likes of Sam Frangalas, Christian Kassanis and Kyan Buselli tried hard for Berwick Springs.
In the other semi-final, Narre South Lions Navy just edged out Berwick White, 4.3 (27) to 3.3 (21).
The Lions got out to a 19-point lead at three quarter time, but Berwick fought hard in the final quarter to just fall short.
Sam Woodward was particularly good for Berwick with two terrific goals, while for the victors, Jack Wilson, Jonty Miller, Dylan Armstrong and Ethan Paul each kicked a goal.
In the Under 14 Blue semi-final at Holm Park, Tooradin-Dalmore got home in a thriller against Beaconsfield Blue, 2.4 (16) to 2.3 (15).
The Seagulls led at every change and took a very handy seven-point lead at the final change, but the Eagles almost got the job done in a thrilling last term.
And Endeavour Hills were the other winners, defeating Noble Park, 5.9 (39) to 4.7 (31).
Dejan Janjic starred for the Eagles with three goals, while for Noble Park, Omaid Farhad (two goals), Thomas Henderson and Pajton Emini battled hard.
In Under 14 White, Officer Blue did a brilliant job in its win against Hampton Park at Major Recreation Reserve, 8.5 (53) to 0.6 (6).
The Kangaroos did a superb job all day, taking an early lead and never letting their foot off the pedal, with Brody Chase and James Adams each kicking three brilliant goals.
Narre North Foxes Grey were also dominant, winning by 98-points against Lyndhurst, 14.14 (98) to 0.0 (0).
The Foxes had winners all over the ground, but Mitchell Scriven was particularly excellent, kicking four goals to take his tally to 34 for the year. Luke Butcher also kicked two goals.
In Under 15 Division 1, Beaconsfield Blue defied the conditions to register 27 scoring shots against Narre North Foxes Black, 15.12 (102) to 2.6 (18).
With Spencer Robertson (four goals), Colby Pernar (three), Mitchell Szybkowski (two) and Jesse Morton (two) firing up forward, the Eagles were dominant despite the Foxes not giving in all day.
And Berwick White got the better of Berwick Springs in a high scoring contest, 12.7 (79) to 7.4 (46).
Braedyn Bowden starred for the victors with four goals and Jaxon Binns kicked three, while for the Springs, Brock Walker made life difficult with four goals.
In Under 15 Division 2, Cranbourne Blue defeated Lyndhurst, 9.17 (71) to 1.4 (10).
The Eagles could have won by plenty more, but put in a tremendous performance, with Brodie Cox causing issues with his three goals. For the Lightning, Josh Finnegan kicked a goal and battled hard all day.
And Berwick Blue got the better of Narre North Foxes Grey in a thrilling encounter, 4.12 (36) to 5.4 (34).
Despite kicking more goals than the victors, the Foxes couldn't quite get the job done, but held their own for the majority of the day.
For Berwick, Jesse McCutcheon kicked two goals to be a force up forward, while Lachlan Devenish and Isaac Seskis each kicked a goal.
UNDER 11s-12s
Officer White have moved on to the grand final of Under 11 Red after an impressive win against Narre North, 10.4 (64) to 1.6 (12).
Officer got off to a fast start, kicking seven goals in the first quarter but then the Foxes kept them scoreless in the second and third quarter.
Finn Kneen, Jed Williams, Noah Williams, Brody Pandy and Keenan Boi were all hard workers for Officer.
While for Narre North, Beau King, Henry McKay, Teague Harris and Diesel Beck tried really hard for the Foxes.
In the other final, Beaconsfield Gold and Pakenham Maroon played off in a close fought game before the Lions snuck home with a 5.12 (42) to 4.5 (29) win.
Jackson O'Brien, Noah Jans, Quinn James, Jaxon Kelly and Harrison Newman all played great games for the Eagles, while Evan Grass, Benjamin Thomas, Taj Lines and Josh Toner all played well for the Lions.
In Under 11 Blue, Beaconsfield White beat Tooradin-Dalmore, 5.8 (38) to 2.5 (17), to move through to the grand final.
Bailey Harris, Cooper Neal, Archie Drury and Kobe Stott were all working hard for the Eagles in the big game, while Darcy Freeman, Logan Brown, Dylan Blake and Chevy Simpson all tried their hearts out for the Seagulls.
And Noble Park Blue won their game against Lyndhurst Orange, 6.12 (48) to 4.5 (29).
Caleb Myers, Ashton Jack, Lucas Anile and Jordan Jacobs were all very good for Noble Park, while Bailey Martin, Nicholas Santo and Ethan Kung were all terrific for the Lightning.
In Under 11 White, Officer Blue had a really impressive game against Fountain Gate when they won 5.7 (37) to 0.0 (0) on the weekend.
The Kangaroos will now play in the grand final in two weeks after really strong games from Joshua Murray, Ryan Warne and Cody Lucas. Fountain Gate tried their best, with Riley Hill, Noah Riley and Taylor Paul all working hard in the defeat.
In the Berwick North versus Berwick Springs final, the Berwick Springs side got over the line, 6.7 (43) to 4.3 (27).
Owen Brady, Archer Wilson and Rhylee Morris were all exceptional for Berwick Springs while Luke Daly, Bryce Kirby and Mitchell Rice were all hard workers for Berwick North.
The Beaconsfield derby between the Blue and Gold teams didn't disappoint in Under 12 Red with the two sides competing in an excitingly close match.
But Gold got over the line by only two points when it won 3.5 (23) to 3.3 (21).
Noah Kilpatrick, Dylan Vogrig, Kayleb Lovett, Sullivan Robey, Jordan Gwin and Matthew Cross were all tremendous for the Gold side. Korban Stone, Jack Hilton and Ryan Fox were all hard workers for the Blue side.
And Berwick Blue were very impressive in its 11.9 (75) to 2.0 (12) win over Pakenham Maroon.
Jack Lawrence continued his terrific season with five goals for the Wickers while Kye Smith, Connor Bell and Cooper Hall also played really well. For Pakenham, Beau Potter, Liam Wilson and Oliver Ratten all played great games.
In Under 12 Blue, Beaconsfield White have moved through to the grand final after its 4.4 (28) to 2.0 (12) win over Kooweerup.
Jacob Battams was amazing with his two goals for Kooweerup while his teammates in Jackson Neal, Cooper Davey and Tristan Dyer all played great games.
Charlie Stone, Kaelen Henry and Benjamin Booth were all hard workers for Beaconsfield.
Lyndhurst Orange beat Narre South 3.5 (23) to 0.3 (3) in their final.
Samuel Pepper, Dalton Hardy and Ryan Hull all had strong games for Narre South while Tyler Cook, Jonah Mandanici and Sebastian Sottile all kicked sensational goals for Lyndhurst.
Kooweerup will play Lyndhurst Orange this week for the last spot in the grand final.
In Under 12 White, Berwick Springs Blue beat Hampton Park, 2.6 (18) to 2.0 (12) .
Lachlan Hume, Madison Bourke, Mitchell Gilchrist and Jake Whittingham all had amazing games for Berwick.
For the Redbacks, Lachlan Thomas, Dylan Kelly and Jayden Thomson all tried really hard.
Despite Parkmore's brilliant kicking for goal, it went down 5.8 (38) to 4.0 (24) to Narre Warren on the weekend.
Brody Hoppner was terrific for Narre as was Tyler Murphy and Cooper Cullen. Parkmore was lifted by the efforts of Jai Faavae Sasalu, Denis Gega and Jai Bartlett.
Parkmore and Berwick Springs will face off this week in the preliminary final.
12s, 14s, 16s Girls
Beaconsfield Blue will move onto the Under 12 Girls grand final with its close win against Narre North, 5.1 (31) to 4.4 (28).
Charlotte Lines, Georgia Kelly, Kira Browne and Isabel Arnold tried really hard for Beaconsfield while Caitlyn Bell, Claire Wilson, Teagan Bryan, Ruby Mills were impressive for the Foxes.
Officer Blue, meanwhile, went down with pride against Cranbourne on the weekend, 7.1 (43) to 2.2 (14).
The Kangaroos made a comeback after a slow start which was sparked from the amazing effort from players such as Grace Norton, Jayla Young, Abigail Baker, Sienna Walker and Chloe Duffy.
But Cranbourne held on for a strong win in the end from big games from Sophie McCarthy, Karla Woodman, Marlie Wood, Emily McDonald and Asha Kennedy.
Unfortunately, Officer has been knocked out of the finals, but the Roos can hold their heads high after a very encouraging year.
In Under 14 Girls, the Beaconsfield Blue girls team became the second girls team from Beaconsfield to make the grand final on the weekend when they hung on in its close game against Berwick White, 4.5 (29) to 4.3 (27).
Berwick made a comeback in the third quarter to hit the front but were unable to hold on against a very strong Eagles side.
Jasmine Nation was inspirational for the Eagles with two goals while her teammates in Hailie Pastras, Ashlee Quinn, Ruby Langham and Makenzi Evans worked really hard.
For the Wickers, Isabella Thompson, Chloe Hamilton, Myah Hansen and Sophie Simpson were really impressive.
And Narre North beat Pakenham Maroon in another close encounter, 4.4 (28) to 3.2 (20).
Pakenham were leading at the final huddle but were unable to hold on in the last quarter – Shanea Hawker kicked two special goals while Olivia Frost, Alyssa Hobson, Reigan Shaw and Hayley Percy were all fierce competitors for the Lions.
Narre was led by a season best two goals from Tahlia Cipriani and big efforts from Lillee James, Sienna Hastings, Holly Neal and Elena Harris.
And in the Under 16 Girls, Beaconsfield Blue made it a triple for the girls teams when they won and moved into the grand final, beating Narre North, 6.9 (45) to 4.2 (26).
Georgia Malkoun and Olivia Magri continued their remarkable seasons into the finals with two goals each, while Emma Shaw, Jemima Sheedy and Ashleigh Coutts worked hard for the Eagles.
Brooke Smith, Amber Clarke, Courtney Siwes and Madilyn Hanna all kicked a goal for the Foxes while Sienna Anderson also competed well around the ball.
Pakenham Marron played one of their best games for the season when they beat Endeavour Hills/Narre North, 6.8 (44) to 0.0 (0).
Abigail Banks booted two goals and played one of her best games for Pakenham while Tylah Burn worked hard for her teammates.
For the Eagles, despite not getting a score on the board – they didn't lose any supporters trying their hardest until the final siren.
Lucy Thea, Chloe Rundle and Ashleigh Pace were all among the Eagles players who tried their best.