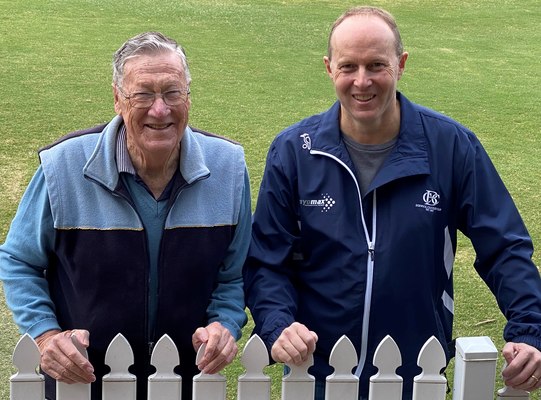 In this special edition of Beer O'Clock, sports editor Russell Bennett headed along to Arch Brown Reserve to learn from Berwick Cricket Club historian Allan Bartlett and legendary former player Don Moyes about some of the town's more remarkable, yet lesser-known sporting feats and figures…
***
Russell Bennett: Allan, tell me about the magic of this ground…
Allan Bartlett: Well this ground (Arch Brown Reserve) has been the continuous home of this cricket club since 1863, barring a couple of periods where they played at Akoonah Park. At one stage in 1873 the club was actually forced off the reserve when John Brisbane acquired the land from the cricketers, but the sale was overturned when the local community protested. They took it to court and had the sale overturned. Other than that, this area has been doing this for more than 155 years.
The grave of one of our early stalwarts, Dr Edward Vieusseux, is next door in the Berwick cemetery. He started the original Berwick Grammar school on Brisbane Street as described in the local book 'The school that was', and I know that Don is very keen to see this grave restored as it is historically significant to Berwick and the cricket club and is in sad disrepair.
When the club turned 150 in 2013, we were able to confirm that one of Vieusseux's students, a local cricketing protégé, Harry Graham played for the club and went on to play test cricket – our only test cricketer.
We believe that Harry Graham has been forgotten in the history of Berwick and that he is certainly worthy of recognition alongside Edwin Flack in the Main Street.
RB: Don, we're looking here through a book of your records and achievements that you've got with you. Tell me about this article in the Sporting Globe on 12 January, 1957 – what was that story about?
AB: Don, tell Russell and I, was it 13 wickets that you took in one game, or was it 10?
Don Moyes: It was both, Allan – three wickets in the first innings, and all 10 in the second.
RB: Don, tell me how that came about. You were up in Brisbane?
DM: Back then, all the churches had cricket teams and the teams all belonged to a church association, and we belonged to South Suburban Churches and they picked a team to go to Brisbane to compete in the Churches Carnival, which involved South Australia, Victoria, New South Wales, and Queensland. That happened against South Australia, in Queensland in a place called Tingalpa.
A chap was writing a story on that day once and he wanted to know which way the wind was blowing and what the wicket was like and I couldn't remember that for the life of me! I just bowled the ball.
RB: So what do you remember about it?
DM: The one run when I took all 10! (laughs). I tried to bowl a smartarse wrong-un and the batsman nicked it down to third man.
RB: So, wait a minute, the one run they got off you in that innings was a nick down to third man?
DM: Yeah, that's right. The other thing I remember is that the captain used to say "the only reason you got the 10 wickets was because of the way I set the field!", but they dug out the scorebook five or six years ago and there's only one catch amongst them, and that was by the wicket-keeper! (laughs).
That's how good his field placing was! When I had a go at him, he just said "If I hadn't have brought you on to bowl, you wouldn't have got the 10 wickets".
(Don looks at a photo of that scorebook, sees the opening batsman's name…)
I had a coffee with him the other day – for a bloke to bat through the innings as an opening batsman, and make seven, isn't a bad effort!
I was only on a hat-trick twice, and didn't get either of them. But I'd got enough hat-tricks elsewhere.
RB: How many hat-tricks have you taken?
DM: Seven. They could only find six hat-tricks in this one story they wrote (pointing to another article), but the one that was omitted was one I'd got at school and (Richmond legend) Tommy Hafey was one of the wickets, so he wasn't much of a cricketer! (laughs).
I'm also the only person I'm aware of who's taken a reverse hat-trick.
RB: What's a reverse hat-trick, Don?
DM: Well, I dropped three catches in three balls off the same bowler, didn't !? (laughs). I was in the slips. I don't know if he ever took a hat-trick either.
AB: Don, did you play on matting, or synthetic back in those days, or was it turf?
DM: Yes (matting), but up in Queensland it was all on turf. I never played on turf regularly until I came to Berwick, which was in the early 1970s.
RB: So going back to that game for a second, you took 3/1 in the first, and then 10/1 in the second innings?
DM: Yes, that's right. This is triggering all sorts of memories right now – it's really interesting.
AB: What an incredible scorebook. Don, did you bowl leg-spin?
DM: No, medium cutters, really.
RB: But you had a change-up wrong-un?
DM: Well they were hardly scoring, so I thought I'd try it out. Besides, they'd never believe anyone who said they took 10/0! (laughs).
RB: So you came to Berwick well after that…
DM: Oh yes. When I came here I was in my early 40s and I had to fill in a form that had 'birthday' on it, rather than 'birth date'. I thought if I told them I was 41 I'd never get a game, so my birthday was the 7th of March and that was it.
The captain came along and wanted to know how old I was, and I just brushed him off. I got a game in the firsts for about four or five seasons, until my mid-40s.
The reason I came to Berwick in the first place was that I was driving one day with an old aunt, and my son, in the car and a fire truck came through a red light on the corner of Warragul Road and the highway and hit me head-on. Lucky I was driving a Volvo and everything worked in it, so apart from a couple of cuts we were ok, but we were cleaned up and I didn't get to the cricket, but I started to think it was silly driving from Berwick to Caulfield to play so I shacked up here with Berwick instead.
RB: How long were you living in Berwick before you started playing for the club?
DM: Probably only a season until I crashed with the fire truck. We had a couple of interesting blokes playing with me though. We tried to recruit a fella called Andrew Joseph, who founded the Australian Cricket Society, but he was Jewish and it was a Presbyterian team. So, we finished up getting (Richmond legends) Francis Bourke – a Catholic – and (Alan) 'Bull' Richardson. Francis was damn good – he was good enough to play District (Premier) cricket – and he's also a ripper bloke to match.
RB: How long did you play cricket for, in the end?
DM: Well at the age of 71 I was still playing cricket with the Crusaders on overseas trips.
RB: So you kept playing up until 10 years ago?
DM: 10 years ago? Oh you're very kind, Russell! (laughs). I stopped playing cricket for Berwick when my wife got cancer and I looked after her for three years. Then two of my mates talked me into going on a Crusaders trip (vets cricket). In the first match I played I pulled a muscle, so that stuffed me around for about three weeks. Subsequently, though, I had eight other trips overseas, and we met the Queen four or five times. We played at Windsor Castle on their grounds.
RB: I can only imagine how surreal that would've been…
DM: Absolutely. On one occasion this South African bloke was annoying me when he was batting and I was fielding on the boundary. I was throwing the ball in, and the keeper said "why are you trying to throw the ball to the batsman?". I said I was trying to hit him in the head, and I wrecked my wrist doing it!
I went out to meet the Queen the next day and I had my wrist in plaster. There was a photograph of her shaking hands with me, and she's saying "I'm not going to shake hands with that!" (laughs)
RB: So let's talk about Dr Edward Vieusseux. Obviously you've got a very significant project in mind when it comes to his grave site, Don. Why are you so invested in the project?
DM: I was doing some research on Harry Graham. Vieusseux started the school up here (the old Berwick Grammar) and Harry went there and played for Berwick. I wondered about Vieusseux and I noticed the name on the life members' board at the Melbourne Cricket Club. I researched it to the extent that he was the captain of the seconds, and didn't play much in the firsts. But I saw that he was the captain and manager of the seconds for two years.
Now, I was friendly with the manager of the firsts – who was the manager for about 18 years – and he didn't get a life membership like Vieusseux did.
AB: There's a bit more to that, though. I was sent a piece of information from the MCC saying that it wasn't just the seconds he was in charge of – it was everything below the firsts. He basically managed everyone except the firsts, to the extent that when he came out to Berwick to set up this school, they had to employ three people to do the job he was doing by himself. When he came out here he ended up as president of the club and fed players in from the school, such as Harry Graham. He even used to organise matches between Berwick and the MCC on the MCG – we've got evidence of that. And how many years did it take for us to get back there for the statewide Twenty20? (laughs). It only took about 120 years!
There's been a history done on all the cricket clubs in Victoria and Berwick is number 21, along with Mornington, when it comes to the oldest. They were both started in 1863.
RB: Clearly we're sitting here talking about some pretty amazing periods in the local area's cricketing history, and the point moving forward is to make sure the likes of Vieusseux and Graham are recognised, fully…
DM: Vieusseux's grave (in the Berwick cemetery) is in absolute disarray. You wouldn't even know it's his.
AB: It needs to be professionally restored, and it needs money to do it.
RB: Definitely a worthy project. Don, Allan, thanks so much for the chat – it's been truly fascinating…
DM: Thank you.
AB: Thanks, Russell.