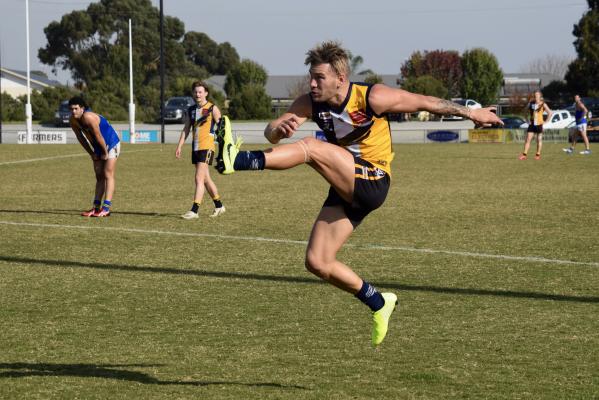 By Nick Creely
What better way to get a gauge of who the AFL Outer East's Premier Division's most dominant players have been so far this season than with the thoughts of our astute senior coaches?
The Pakenham Gazette's Coaches Award has drew considerable interest this season as coaches enter a 5,4,3,2 and 1 for each round, and while we sit patiently through yet another lockdown, the race is already tight at the top, and will surely go down to the wire when community sport hopefully gets the green light again soon.
Beaconsfield jet Nick Battle leads narrowly after a blistering start to the season at his new club, with the midfield ace polling in every game so far this season, including two perfect 10s, while Narre Warren star Trent Cody has been freakish for the Magpies with his explosiveness and ability to hit the scoreboard from the midfield. There are few players in the region that possess the attributes of the star pair.
And who could rule out the Marc Holt train from steamrolling home to the award? The legendary sharpshooter has 26 goals already this season, 11 best than the next goalkicker, and is vice-like hands, strength in the air and presence around the ground is worth the price of admission alone.
Rounding out the top 10 are experienced Beaconsfield utility Jake Bowd, who has switched down forward from his usual post on half-back and been a revelation for the Eagles with 14 goals, excitement machines Tom Miller (Narre Warren) and Jarryd Barker (Cranbourne), while Beaconsfield speedster Jafar Ocaa has done some incredible things this season.
Dermott Yawney has once again been highly impressive for Pakenham, while ex-St Kilda defender Brandon White has slotted into the competition brilliantly, while Wandin star Pat Bruzzesse is such an impressive talent.
Here are the full votes from the first five rounds of the season:
ROUND 1
Olinda Ferny Creek (Brendan Donovan) v Upwey Tecoma (Stuart Hill)
10 Nick Keegan (Olinda)
7 Peter Gough (Olinda)
5 Matt Scharenberg (Olinda)
4 Ben Hinton (Upwey)
2 Patrick Seymour (Olinda)
1 Bailey Oates (Upwey)
1 Matt Rosier (Olinda)
Woori Yallock (Jack Cole) v Cranbourne (Steve O'Brien)
8 Corey Ellison (Cranbourne)
8 Glenn Osborne (Cranbourne)
6 Marc Holt (Cranbourne)
3 Max Gearon (Cranbourne)
2 Brandon Osborne (Cranbourne)
2 Zach Monkhorst (Woori)
1 Jarryd Barker (Cranbourne)
Doveton (Daniel Charles) v Wandin (Nick Adam)
10 Jake Mullen (Doveton)
7 Pat Bruzzese (Wandin)
5 Sam Muirhead (Doveton)
3 Mark Seedsman (Doveton)
2 Connor Smith (Wandin)
2 Harley Primrose (Doveton)
1 Kobi George (Doveton)
Beaconsfield (Mick Fogarty) v Narre Warren (Shane Dwyer)
9 Brandon White (Beaconsfield)
9 Jake Bowd (Beaconsfield)
6 Nick Battle (Beaconsfield)
3 Tom Miller (Narre Warren)
2 Damien Johnston (Beaconsfield)
1 Jafar Ocaa (Beaconsfield)
ROUND 2
Beaconsfield (Mick Fogarty) v Cranbourne (Steve O'Brien)
7 Brandon Osborne (Cranbourne)
6 Marc Holt (Cranbourne)
5 Tylah Stokoe (Beaconsfield)
5 Nick Battle (Beaconsfield)
3 Brandon White (Beaconsfield)
2 Jafar Ocaa (Beaconsfield)
1 Lachie Modica (Beaconsfield)
1 Jordan Bertrand (Cranbourne)
Woori Yallock (Jack Cole) v Wandin (Nick Adam)
9 Josh Neal (Woori)
6 Zach Monkorst (Woori)
4 Connor Smith (Wandin)
5 Ben Monkhorst (Woori)
3 Pat Hodgett (Wandin)
2 Kody Busoli (Woori)
1 Ryley Monkhorst (Woori)
Narre Warren (Shane Dwyer) v Doveton (Daniel Charles)
10 Trent Cody (Narre Warren)
6 Lachie Benson (Narre Warren)
4 Jesse Davies (Narre Warren)
4 Kobi George (Doveton)
2 Brad Scalzo (Narre Warren)
2 Will Howe (Narre Warren)
1 Tristan Warkuss (Doveton)
1 Matt Soroczynski (Narre Warren)
Pakenham (Ash Green) v Upwey Tecoma (Stuart Hill)
10 Jake Thompson (Pakenham)
6 Jackson Bramich (Pakenham)
4 Matthew De Bruin (Pakenham)
4 Dermott Yawney (Pakenham)
2 Keenan Hinton (Upwey)
2 Zac Stewart (Pakenham)
1 Sam Waters (Upwey)
1 Thomas Gamble (Pakenham)
ROUND 3
Beaonsfield (Mick Fogarty) v Doveton (Daniel Charles)
10 Nick Battle (Beaconsfield)
6 Jafar Occa (Beaconsfield)
6 Matt Johnston (Beaconsfield)
4 Pat Gerdin (Beaconsfield)
2 Sam Merrick (Beaconsfield)
1 Damien Johnston (Beaconsfield)
1 Jake Bowd (Beaconsfield)
Upwey Tecoma (Stuart Hill) v Wandin (Nick Adam)
6 Bailey Oates (Upwey Tecoma)
5 Glenn Coastas (Upwey Tecoma)
4 John Ladner (Wandin)
4 Josh Hannon (Upwey Tecoma)
3 Tom Hinds (Wandin)
3 Haydn Stanley (Upwey Tecoma)
2 Pat Hodgett (Wandin)
2 Tom Leech-Hines (Wandin)
1 Connor Smith (Wandin)
Pakenham (Ash Green) v Narre Warren (Shane Dwyer)
8 Trent Cody (Narre Warren)
5 Jordan Stewart (Pakenham)
4 Jesse Davies (Narre Warren)
4 Jack Flannery (Narre Warren)
3 Jeconiah Peni (Pakenham)
2 Tom Miller (Narre Warren)
2 Dermott Yawney (Pakenham)
1 Zac Stewart (Pakenham)
1 Kyle Graham (Narre Warren)
Olinda Ferny Creek v Woori Yallock (Jack Cole)
7 Kelsey Currie (Olinda Ferny Creek)
5 Dale Rohrmann (Olinda Ferny Creek)
4 Jason Lindgren (Woori Yallock)
4 Jayden Rankin (Olinda Ferny Creek)
3 Kody Busoli (Olinda Ferny Creek)
3 Peter Gough (Olinda Ferny Creek)
2 Mitchell Bonuda (Olinda Ferny Creek)
1 Pat Rosier (Olinda Ferny Creek)
1 Jacob Aitchison (Woori Yallock)
ROUND 4
Olinda Ferny Creek (Brendan Donovan) v Narre Warren (Shane Dwyer)
9 Tom Toner (Narre Warren)
9 Tom Miller (Narre Warren)
3 Matt Scharenberg (Olinda)
3 Jake Richardson (Narre Warren)
2 Trent Cody (Narre Warren)
2 Brad Scalzo (Nare Warren)
1 Peter Gentile (Narre Warren)
1 Hayden Stagg (Narre Warren)
Upwey Tecoma (Stuart Hill) v Cranbourne (Steve O'Brien)
8 Matt Alister (Cranbourne)
5 Jarryd Barker (Cranbourne)
4 Marc Holt (Cranbourne)
4 Mitch Tharle (Cranbourne)
3 Luke Bee-Hugo (Cranbourne)
2 Jake Stephens (Cranbourne)
2 Jake Carosella (Cranbourne)
1 Dillan Bass (Cranbourne)
1 Rhylan Smith (Cranbourne)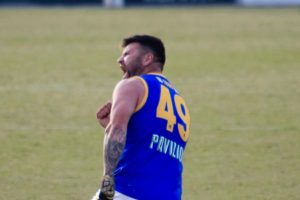 Woori Yallock (Jack Cole) v Doveton (Daniel Charles)
9 Ben Monkhorst (Woori Yallock)
5 Joel Adams (Woori Yallock)
4 Zach Monkhorst (Woori Yallock)
3 Sam Muirhead (Doveton)
3 Michael Batten (Woori Yallock)
2 Josh Neal (Woori Yallock)
2 Jason Lindgren (Woori Yallock)
1 Jarrod Smith (Doveton)
1 Mark Seedsman (Doveton)
Wandin (Nick Adam) v Pakenham (Ash Green)
7 Liam Tyrell (Pakenham)
5 Dermott Yawney (Pakenham)
5 Stephen Morey (Pakenham)
4 Jarrad Glenn (Wandin)
4 Pat Bruzzese (Wandin)
3 Tom Hinds (Wandin)
1 Connor Smith (Wandin)
1 Jordan Stewart (Pakenham)
ROUND 5
Beaconsfield (Mick Fogarty) v Olinda Ferny Creek (Brendan Donovan)
10 Nick Battle (Beaconsfield)
7 Jake Bowd (Beaconsfield)
4 Jafar Ocar (Beaconsfield)
4 Jamie Plumridge (Beaconsfield)
3 Matt Scharenberg (Olinda)
2 Corey Walker (Beaconsfield)
Cranbourne (Steve O'Brien) v Wandin (Nick Adam)
9 Jarryd Barker (Cranbourne)
8 Dillan Bass (Cranbourne)
5 Connor Smith (Wandin)
4 Marc Holt (Cranbourne)
2 Glenn Osborne (Cranbourne)
1 Ryan Jones (Cranbourne)
1 Par Bruzzese (Wandin)
Doveton (Daniel Charles) v Pakenham (Ash Green)
9 Daniel Zajac (Doveton)
9 Josh Tynan (Pakenham)
5 Jake Basa (Doveton)
3 Jordan Stewart (Pakenham)
2 Dermott Yawney (Pakenham)
1 Luke Daidone (Doveton)
1 Jake Mullen (Doveton)
Narre Warren (Shane Dwyer) v Woori Yallock (Jack Cole)
9 Nathan Foote (Narre Warren)
7 Trent Cody (Narre Warren)
5 Jake Richardson (Narre Warren)
3 Jesse Davies (Narre Warren)
3 Tom Miller (Narre Warren)
2 Joel Zietsman (Narre Warren)
1 Ben Monkhorst (Woori Yallock)
FULL LEADERBOARD
31 Nick Battle (Beaconsfield)
27 Trent Cody (Narre Warren)
20 Marc Holt (Cranbourne)
17 Jake Bowd (Beaconsfield)
17 Tom Miller (Narre Warren)
15 Jarryd Barker (Cranbourne)
13 Jafar Ocaa (Beaconsfield)
13 Dermott Yawney (Pakenham)
12 Brandon White (Beaconsfield)
12 Pat Bruzzese (Wandin)
11 Matt Scaharenberg (Olinda)
11 Jake Mullen (Doveton)
11 Jesse Davies (Narre Warren)
10 Nick Keegan (Olinda)
10 Glenn Osborne (Cranbourne)
10 Dillan Bass (Cranbourne)
10 Jake Thompson (Pakenham)
9 Connor Smith (Wandin)
9 Brandon Osborne (Cranbourne)
9 Jordan Stewart (Pakenham)
9 Daniel Zajac (Doveton)
9 Josh Tynan (Pakenham)
9 Tom Toner (Narre Warren)
9 Nathan Foote (Narre Warren)
8 Corey Ellison (Cranbourne)
8 Matt Alister (Cranbourne)
7 Peter Gough (Olinda)
7 Liam Tyrell (Pakenham)
7 Jake Richardson (Narre Warren)
7 Bailey Oates (Upwey)
6 Matt Johnston (Beaconsfield)
6 Tom Hinds (Wandin)
6 Jackson Bramich (Pakenham)
6 Lachie Benson (Narre Warren)
5 Tylah Stokoe (Beaconsfield)
5 Pat Hodgett (Wandin)
5 Stephen Morey (Pakenham)
5 Sam Muirhead (Doveton)
5 Kobi George (Doveton)
5 Jake Basa (Doveton)
5 Glenn Coastas (Upwey)
4 Pat Gerdin (Beaconsfield)
4 Jamie Plumridge (Beaconsfield)
4 John Ladner (Wandin)
4 Jarrad Glenn (Wandin)
4 Mitch Tharle (Cranbourne)
4 Matthew De Bruin (Pakenham)
4 Mark Seedsman (Doveton)
4 Brad Scalzo (Narre Warren)
4 Jack Flannery (Narre Warren)
4 Ben Hinton (Upwey)
4 Josh Hannon (Upwey)
3 Damien Johnston (Beaconsfield)
3 Max Gearon (Cranbourne)
3 Luke Bee-Hugo (Cranbourne)
3 Zac Stewart (Pakenham)
3 Jeconiah Peni (Pakenham)
3 Haydn Stanley (Upwey)
2 Patrick Seymour (Olinda)
2 Sam Merrick (Beaconsfield)
2 Corey Walker (Beaconsfield)
2 Tom Leech-Hines (Wandin)
2 Jake Stephens (Cranbourne)
2 Jake Carosella (Cranbourne)
2 Harley Primrose (Doveton)
2 Will Howe (Narre Warren)
2 Joel Zietsman (Narre Warren)
2 Keenan Hinton (Upwey)
1 Matt Rosier (Olinda)
1 Lachie Modica (Beaconsfield)
1 Jordan Betrand (Cranbourne)
1 Rhylan Smith (Cranbourne)
1 Ryan Jones (Cranbourne)
1 Thomas Gamble (Pakenham)
1 Tristan Warkuss (Doveton)
1 Jarrod Smith (Doveton)
1 Luke Daidone (Doveton)
1 Matt Soroczynski (Narre Warren)
1 Kyle Graham (Narre Warren)
1 Peter Gentile (Narre Warren)
1 Hayden Stagg (Narre Warren)
1 Sam Waters (Upwey)