By Nick Creely
OUTER EAST FOOTBALL
PREMIER DIVISION REVIEW – ROUND 8
That's as gutsy a win as it gets.
The Olinda Ferny Creek Football Netball community is doing it tough at the moment – without power and facing a hefty clean up after the devastation of Victoria's recent storms.
But the Bloods dug deep to clinch a potentially season-defining win on the road against Doveton – a win built off sheer will and desperation, and hopefully putting a smile on the faces of those working through a challenging period.
It's a win that everyone involved within the club should be extremely proud of.
Football was a blessing for the Bloods, who for at least two hours could clear their heads and bring home a memorable win for the community – who due to Covid restrictions were barred from attending the match.
Brendan Donovan's group pulled away in a dominant final term, booting six goals to one to set up a 49-point win, 10.17 (77) to 3.10 (28).
The proud coach praised his group for the resilience shown after trying times in the community has tested the resolve of everyone.
"I said to the players during the week, we want to put some smiles on people's faces after a tough couple of weeks," he said.
"Most of the guys had to go through police checkpoints to train – we were lucky enough that the club had a generator.
It was a tricky week to negotiate – we were definite that we wanted to play no matter what, and didn't care where or how we played.
"The club got behind us – the reserves had a great win too, and in the end it was a tough week, and it continues to be tough times."
Aside from a pretty lacklustre opening half, in which four goals were scored between the two sides, the Bloods looked to have the measure thereafter, showcasing some attacking football and a hard-nosed attitude at the contest.
Despite kicking a disappointing 2.8 in the third term, the Bloods pulled away to a 15-point three quarter time lead, but were peppering the goals in an ominous fashion with the midfield group in particular getting on top.
The shackles were finally broken in the final term as the Bloods looked to solidify their position in the top five, gaining some percentage in a clinical display.
Lachlan Taylor (one goal) was particularly outstanding for the visitors to be clear best afield, Kelsey Currie and Pat Rosier were all class, while Nick Keegan and Heath Hocking were the two multiple goal kickers.
Mitch Bonuda, in game 300, was also solid for the Bloods, and was deservedly chaired from the ground in honour of his tremendous achievement.
The song – as expected – was sung with plenty of gusto.
"It was a scrappy first half – I thought we had the best of the first, and then they did in the second," Donovan said of the clash.
"The work was done in the third, we upped the pressure – there was perceived pressure on the ground.
"We didn't kick well at goal all day, and you could feel it, it was frustrating, but we knew we had to plug away.
"There's a bit of relief – we had a bit of added pressure, we need to keep on winning games against teams around us."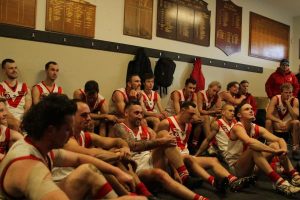 Donovan added that his fifth placed group continues to improve each and every week, and that results are starting to come together around the competition.
"We want to play the best footy we can – after playing Beacy and Narre we feel we get just as much of the ball, but they were so much more efficient going forward," he said.
"So we've made some changes.
"I've said to a lot of the players, the scoreboard is the last indicator in the Premier league- we lost by 13 goals to Beacy, we gave away 12 with unforced errors – we're striving to be better.
"It felt like there was a lot of optimism."
Woori Yallock, meanwhile, played some valiant football, but were overpowered by a slick Beaconsfield unit, 11.10 (76) to 3.7 (25).
A slow start was the catalyst for the Tigers' loss, but Jack Cole's group fought back hard in the second term and early in the third, before the sheer power and class of the visitors took hold.
The Eagles slammed on seven goals to two in the second half to run away 51-point winners, with big man Harrison Coe and Jamie Plumridge incredibly impressive. Casey Demons star Jimmy Munro was also instrumental in the victory with his poise and leadership around stoppages.
Eagles coach Mick Fogarty said his group expected a tough challenge from the Tigers on the road in the return of local footy – and that's exactly what they got.
"We started well, and hit the scoreboard which was pleasing, and to Woori's credit they tightened the game up and didn't allow us to ease transition out of D50," he said.
"Their pressure was really strong – we reset at halt-time and put some scoreboard pressure on – our fitness was great, it was a telling factor, so I'm pleased with that.
"(But) Woori's pressure was full on."
Fogarty was particularly pleased for young tall Harrison Coe, who played his best game for the club since crossing over from St Francis Xavier OC (now Narre South), as well as former Dandenong Stingray Jamie Plumridge.
"Big Harry kicked a lot of goals in a low division for St Francis, but he's got a new role, a big role, and on the weekend he did well against Monkhorst," he said.
"He stood up really well, and gave us first use of the footy.
"(And) Plum played in the Stingrays' grand final, so we knew he had ability, so to come back in an unfamiliar role across half-back, he's been outstanding."
Fogarty was also blessed to have 2019 Casey Demons best and fairest James Munro in for the game. And the midfield bull was sublime.
"He comes back, puts his hand up, it doesn't matter where we play him," he said.
He doesn't want to rest too, so we love him and his leadership. He's like a Luke Hodge out there, directing traffic.
"There are a lot of strong players at VFL level, and Jimmy's one of those that could have made it (at AFL level) if not for a bit of luck – he runs both ways, and imagine what he could do if he could work on his game every day."
With the undefeated Eagles on top of the table, Fogarty said he expected the pressure, and wants to continue building a strong finals brand.
"If you win, everyone talks about you – we welcome it," he said.
"With the league changing to a final six, we've just got to qualify, which we will now, it's just a matter of where and then the season starts.
"There's no point being best during the year and then falling in finals."
For the Tigers, Kane Thompson was the standout with a consistent four-quarter display.
And Narre Warren got the job done against Upwey Tecoma at The Superdome, 12.15 (87) to 5.3 (33).
Despite a competitive display from the Tigers, the reigning premiers took control after quarter time with 11 goals to four in the remaining three quarters.
Luke Hartley, Tom Miller and Jake Richardson were among the best for the Magpies, who are building beautifully as a side under Shane Dwyer in their premiership defense.
In the remaining Premier Division match, Cranbourne just got the edge over Pakenham, 7.12 (54) to 6.6 (42) in a scrappy affair.
But these are the wins that the Eagles will take at this point of the season.
The lead was traded on several occasions throughout the contest, and it took until the final moments for Steve O'Brien's group to shake off the brave Lions, who continue to impress this season.
Jake Carosella was vital with two goals for the Eagles, Dillan Bass provided plenty of drive off half-back, while Jordan Bertrand was razor sharp by foot.
For Ash Green's side – who will take plenty of confidence out of the clash heading into this weekend's bout with Woori Yallock at home – Stephen Morey was absolutely sublime, while the ever consistent Liam Tyrrell was eye-catching.