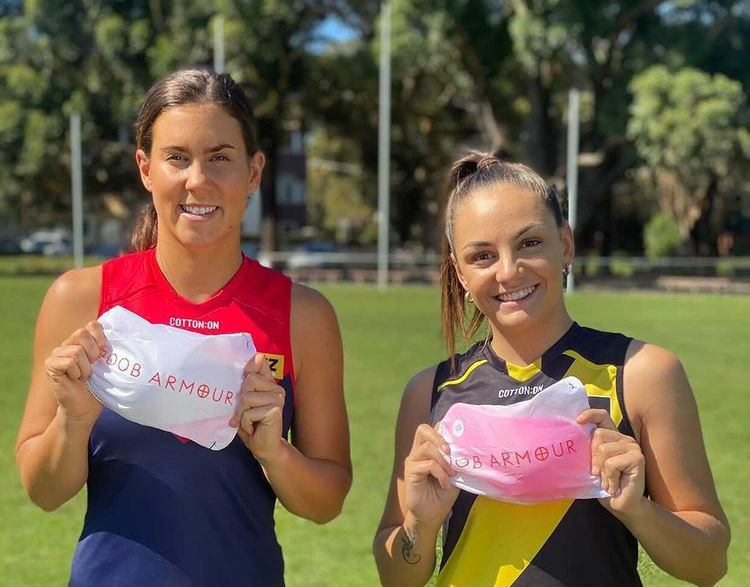 By David Nagel
Libby Birch is universally admired for her elite football skills but the Melbourne AFLW star wants her pre-game routine to be something that is also respected and emulated right across the female sporting landscape.
Birch, who starred at Casey Fields in her first year as a Demon last season, is passionate about ensuring that women of all ages protect their breasts while playing sport.
The 23-year-old qualified physio not only slips in her mouthguard each week, but also wears breast protection that helps her feel more confident and comfortable about playing contact sport and reducing the risk of breast trauma and injury.
"It's never really been talked about before, because women find it embarrassing, but it's our biology and we have to look after it," the Western Bulldogs premiership player explained.
"And it's time the conversation opened up.
"It's like the modern mouthguard for females. We wear helmets and shin guards, but what about protecting the most important part of your bodies.
"We chest-mark the ball, we get bumped, kicked and shoved during play, but wearing chest protection gives me confidence to know my breasts are being protected from injury and impact."
"Since becoming a physio, I am more aware of the impact on breasts during contact sports."
Monique Conti, professional basketballer and current Richmond AFLW star, has joined Birch in highlighting the importance of protecting breasts in any type, or any level, of sport.
"When you're playing sport at any level there is always a lot of physical contact," Conti said.
"Whether it is an elbow, shoulder or a ball, breast injury is uncomfortable and it hurts and can cause trauma to your breast tissue.
"I really want to help educate the Australian sporting bodies, coaching and sporting staff, as well as parents, on the importance of breast protection for young girls.
"Protecting your breasts when playing contact sport is something that isn't talked about enough."
Birch and Conti are both ambassadors for the Australian designed product, Boob Armour, which is worn inside a sports bra.
It is a product designed to protect breasts and prevent injury in women and girls playing impact and hardball sports, including Australian rules football, netball, basketball, rugby league, rugby union, soccer, hockey and cricket.
Founder and Director of Boob Armour, Suzie Betts, said the product had been designed with one over-arching message in mind.
"To give more women and girls the confidence to play impact sports while protecting their breasts from injury," Betts explained.
"There's plenty of research and evidence showing that impact to the breast can result in deep bruising and the formation of hard lumps in the breast tissue.
"Too many of us are unaware of the problem and underestimate the occurrence of breast injuries."
Boob Armour consists of inserts made from soft but strong polyethylene just two millimetres thick. They extend around the underarm for added protection, stabilise the breasts into position, and can be easily inserted in a sports bra.
The product is suitable for females from the age of eight and can be custom-made in any colour or design. More details can be found at boobarmour.com.au