By Nick Creely The West Gippsland Football Netball Competition and Ellinbank District Football Netball League are set to do battle in a mouth-watering Interleague battle...
After rupturing his ACL in March of this year, the likelihood of Tyson Goldsack pulling on the Collingwood jumper this season was slim. No one...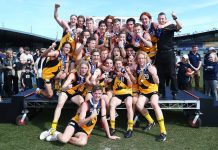 By Hayley Wildes The Dandenong Stingrays have claimed their maiden TAC Cup Premiership in a thrilling win over the Oakleigh Chargers. After 27 years and five...
No one who was at Garfield's Beswick Street ground on Saturday will forget what they witnessed in hurry, and for those who didn't see...
WEST GIPPSLAND FOOTBALL NETBALL COMPETITION SENIOR GRAND FINAL - THE WINNING CLUB To Beau Vernon, footy is far more than just a game. It's a religion. Footy...
Now a two-time Berwick premiership coach, it would be a fair assumption that Stewart Kemperman has been around the senior coaching caper for a...
Building a winning culture is no easy task in football. There can be many obstacles that can get in the way of success, but to...
SOUTH EAST FOOTBALL NETBALL LEAGUE REVIEW – SENIORS GRAND FINAL It was a magic performance befitting of a champion team in the midst of a golden...
SOUTH EAST FOOTBALL NETBALL LEAGUE GRAND FINAL REVIEW – OTHER GRADES A stunning upset in the reserves by Cranbourne and more glory for the talented Beaconsfield...
The Casey Demons are off to the big dance. In what was a thrilling encounter at North Port Oval on Saturday afternoon, the Demons...
In a season that has seen the Dandenong Stingrays take all before them, it came down to 50 minutes of football that stood between...
There are moments in history that will be looked back on in decades to come as club-defining. The final minutes of the 2018 Ellinbank and...