The stories were flowing thick and fast at Tooradin on Saturday as some legends of the past celebrated the 50-year reunion of the most...
Berwick is slowly acclimatising to the little things that count in its new surroundings after the Wickers made it back-to-back wins with an 18.7...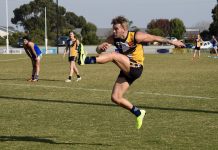 AFL OUTER EAST PREMIER DIVISION COACHES AWARD - ROUND 3 Round Three was a fascinating round for the context of the premier division, some coaches agreed,...
She's come from humble beginnings at Holm Park to the big stage of the AFL Women's. And Beaconsfield product Tyla Hanks has capped off a...
Excitement was in the air at the Officer Junior Football Club last week, as the girls team welcomed a surprise visitor at their training...
Football and netball clubs from across our region are eligible for major funding that could provide valuable assistance for both minor and major projects...
Round Two of the AFL Outer East Premier Division brought about some interesting results, with several players across the competition dominant in their respective...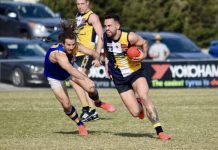 AFL OUTER EAST PREMIER DIVISION REVIEW – ROUND 2 (MATCH OF THE ROUND) Saturday's blockbuster at a rapid Holm Park came down to the little moments. Searing...
AFL OUTER EAST PREMIER DIVISION REVIEW – ROUND 2 May it be the first of many. Narre Warren's picturesque Kalora Park ground was lit up on Saturday...
An explosive display of power running from midfielder Jaxon Briggs has powered Cora Lynn to a 27-point victory over the previously undefeated Garfield on...
Berwick Football Club has secured one of its proudest home-and-away victories in recent times after the Wickers produced a stunning six-goal final term to...
Nar Nar Goon has breathed new life into the West Gippsland Football Netball Competition (WGFNC) with a stirring backs-to-the-wall five-point victory over Phillip Island...