For Casey, it is now out of its control. The Demons' season was on the canvas on several occasions in the last month of football,...
OUTER EAST FOOTBALL PREMIER DIVISION – ROUND 16 Narre Warren just has that extra gear, and whenever challenged, rises to a whole new level. The Magpies were...
The Wildcard Round is a crucial yet unique way to enter a finals series. The NAB League has a Wildcard Round this week before the...
The football connection runs deep through Tanner Stanton's family. His father, his uncles, and even his sister's partner all have a heavy involvement in the...
"I thought he was the major player on the ground, and when we needed a strong influence over the contest, he provided that." Riley Baldi...
By sports editor Russell Bennett The last time Kooweerup played a wet weather final, the side was whitewashed by Phillip Island in last season's grand...
By sports editor Russell Bennett The tough times - all of those down years and heartache - have created a kind of scar tissue that...
"Everyone has a different journey - it's how you travel along your journey that counts." For Lado Alphonse, and more than a dozen other young...
Records are made to be broken, but it doesn't mean they can't be celebrated. 2019 looms as the first season in 21 years that all...
AROUND THE GROUNDS MORNINGTON PENINSULA NEPEAN DIVISION 2 - ROUND 18 In fascinating scenes, the match between Karingal and Pearcedale was abandoned due to a sinkhole emerging...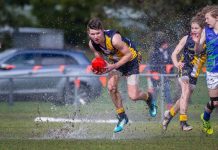 SOUTH EAST JUNIORS SEMI FINALS – UNDER 11s, UNDER 12s, UNDER 13s, UNDER 14s, UNDER 15s UNDER 13s, 14s, 15s It's that time of the year again,...
ELLINBANK AND DISTRICT FOOTBALL LEAGUE REVIEW - ROUND 17 In the match of the round, Ellinbank secured top spot on the ladder against Longwarry in an...