By Nick Creely Incoming Narre Warren coach Shane Dwyer expects there to be stern competition as preparations for the AFL Outer East Premier Division season...
"He never wanted to be a burden to anyone, but if only he knew we never thought of him that way and we would...
Tyla Hanks is a rising star that commands a lot of presence on the football field. The Beaconsfield Football Club and Gippsland Power product is...
The Dandenong Stingrays Girls were made to wait for their first appearance in 2021, but it was worthwhile. After Victoria's lockdown last week, and an...
As winter sports prepare for their season start amidst the uncertainty of the Covid-19 pandemic, one West Gippsland sporting leader is urging the region's...
As Doveton steadily prepares for the challenge of stepping up to the top-flight of the AFL Outer East competition in 2021, it knows it's...
Long awaited works to upgrade the Toomuc Recreation Reserve in Pakenham are expected to be complete by the end of the year. Construction on the...
In a whole host of ways, the 2021 footy and netball season promises to be like no other. Players will be returning to fields and...
One of Officer's favourite sons will return to Starling Road in 2021. Cal Porter - born and raised playing football for the Kangaroos and eventually...
The AFL has announced that the 2021 VFL season will begin on Saturday 17 April, with the Casey Demons locked in for the state...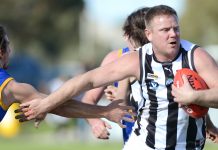 Michael Collins has always let his actions on the footy field do his talking. And it's those actions that have forged his reputation as one...
By Nick Creely There's a buzz surrounding the Berwick Football Club as it prepares to take the plunge into the incredibly strong Eastern Football League...