Epic is one word to describe the events that transpired late afternoon at the Geelong Cricket Ground on Saturday. Another is clutch. Pure and simple clutch. The...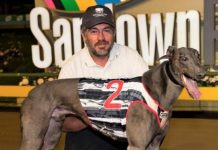 Zipping Rambo announced himself one of the country's premier middle-distance chasers with a stunning victory at Sandown Park last Thursday night. In what appeared a...
You couldn't wipe the smiles off the faces of the Pakenham Warriors basketball team after capturing the division three boys crown at the weekend's...
It's quite ironic that in a sport where being an individual is paramount that Haydn Thompson thought of his team first after winning the...
While all the attention is quite deservedly on Sydney racing at the moment there has still been plenty of action locally with Pakenham trainers...
Only a worldwide pandemic could stop Tooradin-Dalmore from winning a remarkable fourth premiership in four years in 2020. The burning question now is – Who...
The script-writers at the West Gippsland Football Netball Competition (WGFNC) should quite rightly be putting their hands out for a pay rise with another...
We have only had a very small sample size but the West Gippsland Football Netball Competition (WGFNC) looks set to be one right out...
Gembrook Cockatoo expects each round to bring different challenges, but is confident it has what it takes to do some damage in the AFL...
Youth will be high on the agenda for Pakenham as it prepares for the top-flight of AFL Outer East football. After its 2019 Division 1...
Stepping into the powerful Eastern Football League's Premier Division – arguably the strongest local football competition in Victoria – a lot of eyes will...
Everybody involved in community sport – the long-suffering lot of us – we deserved a finish like this. Footy and netball returned to the West...