Community elves are to the rescue this year, delivering the Cardinia Christmas Hamper program which will run from Monday 9 to Friday 13 December. The...
Many would be unfamiliar with the fact that singer-song writer and recording artist Vanessa Amorosi is actually a local girl, born and raised in...
A magical Christmas light display in Kooweerup has a heart-warming meaning behind it this year. Resident Jenny Topperwien, along with her family and friends,...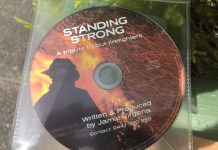 A "semi-professional" musician from Tynong has written and recorded a song dedicated to firefighters who responded to the Bunyip bushfires in March. Full time...
Berwick District Woodworkers Club presented 980 wooden toys to five local charities for Christmas in the Old Cheese Factory on Sunday 8 December. More than...
Police are appealing for public assistance to help locate a man who was last seen in Pakenham. 53-year-old Martin Harrison was last seen on Main...
Fire affected residents have welcomed announcements of a swathe of funding to support them as they continue to rebuild their lives. On Friday 6 December,...
A landlord has ordered his tenants to clean up their act, as a pile of tree branches and unkempt grass continues to grow at...
The left lane is closed on the Monash Freeway city-bound between Old Princes Highway, Beaconsfield and Clyde Road, Berwick due to a van rollover. One...
A portion of the Pakenham line will be closed while "bigger and better" trains are being tested. Commuters are being warned to allow an extra...
Bunyip bushfire victims have welcomed the unveiling of a record fleet of 50 firefighting aircraft as authorities prepare for a "busy" fire season. Launched on...
Two very significant women in Pakenham's gardening community received life memberships with the Pakenham Garden Club on Tuesday 3 December. Meryl Waterhouse started the Pakenham...