By Nick Creely
The sight of the dashing Bailey Morrish bouncing off the half-back line with his elite kicking skills is a captivating image.
He runs, he carries and he has an imposing physical presence around the ground with his solid frame.
But the 19-year-old Beaconsfield junior, who won three flags with the Eagles, including an Under 17 flag in 2014, remains one of the hard luck stories from the 2016 AFL draft after missing out when most expected him to be snaffled up by an AFL club.
It prompted Stingrays Regional Talent Manager Mark Wheeler to express his disappointment that one of his most promising youngsters could slip through the cracks.
"I was shell-shocked on Bailey (missing out on the draft), to be honest. When you go back to his testing results, he was AFL standard already," he said.
"But some things just went against him and sometimes that's all it takes to miss out."
Although this chapter in his life is over and the future is beaming with possibilities, it was a bitter pill to swallow for a kid who dominated the National Combine in stunning fashion and enjoyed a brilliant 2016 TAC Cup season with the Dandenong Stingrays.
"I was obviously very disappointed not to be drafted, but I got some feedback the next day – I called a few people up for advice and really stuck close to family and friends to keep me happy and motivated," he said.
"It was a mixture of seeking feedback and keeping busy and that's how I got over that disappointment."
But instead of sitting on his heels and letting that setback consume him, Morrish elected to come back to the Stingrays as a 19-year-old for one last crack after only getting just one year of exposure to TAC Cup footy, and try and get some essential VFL experience with Williamstown, a club with one of the strongest cultures in Victoria.
He has since played four TAC Cup matches this season – including a best afield performance on Saturday against the Murray Bushrangers- and has looked a class above in a range of positions, and has also been part of Williamstown's senior side for a handful of matches as the 23rd man, impressing with his composure and natural athletic ability.
"A lot of VFL clubs contacted me last year – like Casey – but Williamstown contacted me first and I was actually really reluctant to go down there at first, but as soon as I walked in to the place I was greeted really well, and they're just a bunch of great people, the culture is really good," he said.
"The main goal this year was to make Vic Country as a 19-year-old and I didn't make it which was again disappointing but I'm a positive person and have moved on from that – now with the VFL stuff I'm really developing as a person and a player and am really happy.
"If you're surrounded by good people, you're going to strive – if the people around you want to work hard and succeed, you'll find yourself doing the same."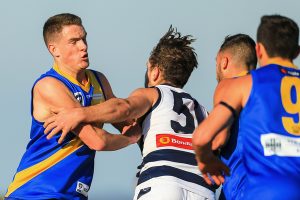 The Gulls, who operate out of Burbank Oval overlooking the picturesque Port Phillip, are reputable for producing AFL players that have previously missed out on the draft.
Current Richmond midfielder Kane Lambert is one of the prime examples – after playing TAC Cup football for the Northern Knights in 2010, Lambert played for the Northern Blues until 2013 before joining Williamstown in 2014 and catching the eyes of the recruiters down at Punt Road after a stellar season.
Current Gulls' midfielder Adam Marcon, Sydney premiership defender Dane Rampe and 2016 Bulldogs flag hero Liam Picken have all flourished after being with the club.
Morrish said that the lessons learnt so far at the Gulls are holding him in good stead and is using the guidance of people at the club to steer him into the right direction.
"The VFL is a big step up and I still need a lot of work and I've certainly found that out quickly," he said.
"I've definitely developed a lot – I had a really good pre-season and worked extremely hard – this year is a real step up in determination and just backing myself – you've just got to keep working hard and backing your strengths.
"This year I'm trying to focus on the next game rather than the draft, more just trying to reduce the pressure on myself – if I'm playing good enough footy the rest will take care of itself."
He is playing off a half-back down at the Gulls, using his impressive kicking skills to set up his vastly experienced teammates.
He heaped praise on the leaders at Williamstown, but said he has leant on a few individuals that have aided him and believed in his talent.
"All the leaders have had a chat to me, and one of the main guys I've got close to is Ben Cavarra and part of the coaching staff, like the coach Andy Collins and also Frankie Raso the development coach, who has really helped me and pushed for me to play seniors straight away," he said.
And he's not the only 2016 Stingray that is in the same boat – Sam Fowler and Mason De Wit – stars during the 2016 TAC Cup season, both missed out on the draft but are flourishing playing VFL football.
"We're all in the same boat – we want to be where the top guns are and it doesn't matter where you play or how far you travel, we'll keep pushing no matter how hard it is until we get to where we want to be," he said.
And if all goes to plan, Morrish anticipates he can eventually evolve into a game-breaking midfielder.
"I've been put up in the midfield at times this year which is only going to help me as a footballer, which is awesome," he said.
"I've played a lot of midfield at junior level and I'm really confident in playing a range of positions, and I love breaking the lines so I can see myself in the future playing a similar role."
Leadership is an another aspect of Morrish's development that is an on-going process, with an increased responsibility as an over-age TAC Cup player something he is thriving on – and he can't wait to be able to pull on the Dandenong jumper more frequently throughout the year and get some games in.
"The leadership aspect has improved and there's a lot more to do as a 19-year-old TAC Cup player which is great," he said.
"I haven't been there much lately but I'm excited to get back there with the boys and have a game or two later in the year."