Cardinia councillors paid tribute to the work Adam Sadiqzai does for the community at their last official meeting for the year on Monday 10...
Pakenham's annual Carols by Candlelight was anything but a silent night, with hundreds gathering at the Toomuc Reserve for a night of Christmas festivities...
An elderly couple are using their story to warn others after they fell victim to a brazen theft. Pakenham residents Brian and Maureen Degering...
An arrest has been made following a robbery that took place at Toomuc Reserve after the Pakenham Carols by Candlelight over the weekend. A...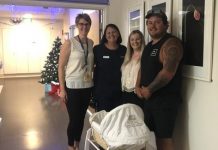 Samantha Magdich gave birth to Braxton knowing her beloved son would never take a breath. In a tragic and heart-wrenching series of events, Braxton passed...
Police have uncovered a veritable Aladdin's Cave of stolen goods. It took four truckloads to remove the stolen booty from a Narre Warren home. Police...
Bets were place, toasts were raised and spirits were high at the 2018 Sportsbet Pakenham Cup. Over 8000 punters from near and far showed...
A Pakenham father seared by flames that ripped through his uninsured family home in October has been rendered homeless. Damien Knaap, his wife Rebecca...
Pakenham's annual Carols by Candlelight has been marred after two young attendees fell victim to a terrifying gang robbery at the conclusion of the...
The Berwick Junior Football Club president has spoken of her devastation after a group of brazen thieves infiltrated her property, stealing a Honda Odyssey...
Frocks, fascinators and fedoras vied to grab the attention of judges at the 2018 Inspire Pilates for Women Fashions on the Field at the...
with Gazette Sport Reporter Nick Creely. 1. What is something people don't know about you? I'm pretty handy in the kitchen, and like cooking for people....