Jeremy* was your ordinary 22-year-old male, a labourer at a family firm, who liked to kick up his heels on weekends ... as many...
It's out with the old and in with the new, as the removal of the old Cardinia Road level crossing has made way for...
It seems that the quintessential Aussie hair cut, the classic mullet, is slowly but surely coming back into fashion, and one Nar Nar Goon...
Hundreds of kids pulled on their running shoes and had a whole lot of muddy fun last week as they raced one another through...
In a landmark decision, the Victorian coroner has recommended that the State Government urgently implement drug testing in Victoria for the first time, following...
A whole lot of heart and soul is being poured into creating the new Riding for Disabled 'super centre' on a beautiful block of...
A beloved family dog narrowly avoided death after someone allegedly sprinkled Ratsak in a Pakenham backyard on Friday 9 April. Chantelle Nicholls-Hohmann said she was...
Have you ever seen Lang Lang quite like this? A Pakenham photographer is taking his passion to new heights with these stunning images of Lang...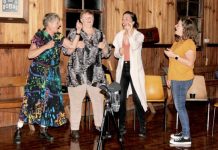 Fire affected communities have used their voices to start healing from the trauma of the 2019 Bunyip bushfires. Upper Beaconsfield based performance artists Gulsen Ozer...
Prince Philip, the longest-serving consort of any British monarch, sadly passed away "peacefully and gently" over the weekend, and people around the world have...
The movement to retain the Beaconsfield Reservoir in its current form is gathering pace. A series of events organised by the Save the Beaconsfield Reservoir...
The draft Access and Infrastructure Plan for the new Yallock-Bulluk Marine and Coastal Park is now available for community feedback. Bass MP Jordan Crugnale said anyone...