It's hard to imagine that this latest iteration of Phillip Island could be better and more powerful than the rest – but it certainly...
By Nick Creely A new league, new colours, and a new identity – the Narre South Saints are ready and raring to make its mark...
AFL OUTER EAST DIVISION 1 SEASON PREVIEW - 2021 It's back! The AFL Outer East will finally bounce the first ball this Saturday in almost 18 months,...
It's hard to imagine – but you get the feeling that Allan Douglas has taken just as much out of his time at the...
If there was to be anything that Belgrave coach Nathan Johns took away from the hardships endured by all in 2020 it's to never...
When that highly anticipated first ball of 2021 is bounced into the turf on Saturday at Kalora Park, it will signal a new era...
Amongst all of the unknowns of 2021, Upwey Tecoma wants to build and implement a sustainable brand to make them uncomfortable to come up...
AROUND THE GROUNDS SOUTHERN - DIVISION 2 ROUND 1 Hampton Park has dusted itself off after its Good Friday loss, clinching a Round 1 thriller against Keysborough...
Beaconsfield will honour the very best cricketers that have played for the mighty Tigers between 1960 and 2020 with the club's inaugural Hall of...
Some of the finest young talent from the Berwick District Tennis Association (BDTA) headed to the famous red porous courts of Kooyong on the...
The West Gippsland Cricket Association (WGCA) is currently in the midst of a busy off season as it looks to rebuild its brand and...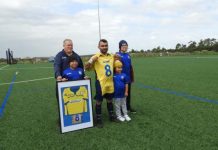 Pakenham United FC has celebrated the wonderful achievement of one of its most loyal servants on Saturday with Alex Herrera playing his 100th game...