By sports editor Russell Bennett The tough times - all of those down years and heartache - have created a kind of scar tissue that...
"Everyone has a different journey - it's how you travel along your journey that counts." For Lado Alphonse, and more than a dozen other young...
Records are made to be broken, but it doesn't mean they can't be celebrated. 2019 looms as the first season in 21 years that all...
OUTER EAST NETBALL REVIEW - ROUND 15 PREMIER The much anticipated top-of-the-table clash between Olinda Ferny Creek and Beaconsfield didn't disappoint - and it wasn't even the...
WEST GIPPSLAND FOOTBALL NETBALL COMPETITION REVIEW - ROUND 18 The home and away season came to a thrilling end this weekend, with gut-wrenching results, upsets delivered...
AROUND THE GROUNDS MORNINGTON PENINSULA NEPEAN DIVISION 2 - ROUND 18 In fascinating scenes, the match between Karingal and Pearcedale was abandoned due to a sinkhole emerging...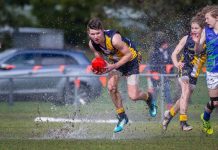 SOUTH EAST JUNIORS SEMI FINALS – UNDER 11s, UNDER 12s, UNDER 13s, UNDER 14s, UNDER 15s UNDER 13s, 14s, 15s It's that time of the year again,...
Casey Fields is set to receive $8 million in upgrades to support elite women's football, further securing the venue as Melbourne Football Club's AFLW...
The Pakenham Warriors' Big V Division 2 Women's side continued its winning ways when it registered a 10-point win over Melbourne University on Saturday...
ELLINBANK AND DISTRICT FOOTBALL LEAGUE REVIEW - ROUND 17 In the match of the round, Ellinbank secured top spot on the ladder against Longwarry in an...
To solidify their rebirth in a new era of West Gippsland footy, the Seagulls revisited the glory years of their past on Saturday night...
With just one round left to play in the 2019 NAB League home and away season, TYLER LEWIS has taken a look at the contenders...