It's no secret that sport is such an integral part of the Australian way of life. So what happens when Australians can no longer go...
In a major blow to the next crop of AFL and AFLW draftees in Victoria, the premier under-18 competition, the NAB League, has been...
By sports editor Russell Bennett "It's sort of like I go into a different world when I play footy - adrenaline kicks in and if...
"Anything that's hard-earned feels even sweeter once you achieve it." After making his long-awaited AFL debut at the age of 21, with that statement it's...
Shima Shine set Sandown Park alight last Thursday night with a blistering 28.95 win, becoming the second fastest greyhound ever to grace the circuit. Anticipation...
Warragul-based former Supercars star Jason Bargwanna has become the 20th inductee into the Baw Baw Shire's 'Sporting Walk of Fame'. In an Australian Supercars racing...
Ian 'Cambo' Campbell loved with all his heart, and was beloved by so many in return. That love he had for his family, friends,...
While Queensland has just become the centre of the AFL world, until at least the end of the home and away season, Ben Collins...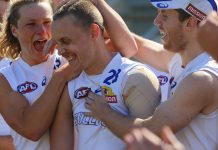 Cal Porter knows the true meaning of hard work and sacrifice more than most young footballers his age. The Officer product personifies the kind of...
Chances are that Cody Weightman's freakish debut mark and goal from deep in the pocket on Friday night will be replayed for many years...
Another of Beaconsfield's favourite sons will get his first taste of AFL football, with small forward Cody Weightman set for his debut on Friday...
PART I Together, Emerald, Gembrook, and Cockatoo are part of one, big hills community with an even bigger heart. They're united by their similarities much more...