By Mitchell Clarke
Priceline Pharmacy's Pakenham store – the very first of its kind – has celebrated a milestone birthday.
The dedicated team aptly dressed up in all things 'P' to celebrate the store's 18th birthday in late September.
From pink panthers to pirates and prisoners, staff members celebrated the special day in true "coming-of-age style".
But it was Andrea Kendall's costume which stole the show. The store's supervisor rocked up to work in a "remarkable" dress made entirely of Priceline bags.
Owners Jeff Thom and Karen Dougall addressed the team and customers to thank them for their support over almost two decades.
Mr Thom acknowledged his experienced team members, who had collectively amassed a whopping 100 years of experience, including 20 years service from veteran employee Leanne Duiker.
Ms Dougall added the team were a true family.
"It amazes me how great and well established our pharmacy has become over the last 18 years. Many of our customers have also been with us for those 18 years," she said.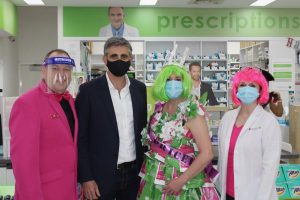 "The team are a family … I believe we are successful because of how well we work together.
"Everyone has a voice and is encouraged to offer suggestions to help improve the business. They make it a fun place to work and for customers to shop."
Customer Sue Johns happened to be in store for the celebrations and said it brought a much needed smile to the faces of many.
"It was a beautiful thing the staff do and especially in these trying times it was absolutely beautiful for staff to make people smile," she said.