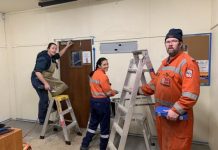 Emerald SES volunteers worked tirelessly over the weekend to give their unit a much-needed revamp. The SES unit, located along Old Gembrook Road, is...
A number of residents were shocked to see DHHS workers seemingly disregarding social distancing while door knocking around Pakenham last week. After Pakenham was...
The dog squad tracked down a group of teenagers who were involved in an armed robbery and were roaming around Pakenham in a stolen...
A new Headspace facility in Pakenham is set to become a "one-stop shop" for young people in need of support. The new centre - which...
Business is booming at Battery Zone in Pakenham. While other businesses suffer a Covid induced downturn, Charlie Carter, the owner and founder of Battery Zone,...
The closure of Mount Cannibal Flora and Fauna Reserve amid the threat of Covid-19 hasn't been enough to deter some people from breaking through...
A group of enthusiastic community members have come together, formed a committee, and launched a campaign regarding the future of the former Holden Proving...
Police are appealing for public assistance to help locate missing Bunyip man Shane Millar. The 59-year-old was last spoken to by phone around 2am on...
A Bunyip man holds serious concerns about the state of testing in Pakenham - after he received his Covid eight days later. After displaying symptoms,...
Multiple CFA brigades were called out to a garage fire in Upper Beaconsfield. On Friday 3 July at 11.22am, six trucks plus an operational vehicle...
The Cardinia Deer Management Coalition (CDMC) will conduct an aerial survey of the Cardinia Creek catchment as part of an investigation into the local...
A tender for the major upgrade of Drouin's Civic Park has been awarded bringing the redevelopment one step closer to delivery. A $1.48 million tender...