After an extremely active March, the students and staff at Cardinia Primary School can finally sit back and enjoy their brand new trophy. The school...
St Francis Xavier College in Beaconsfield was locked down Wednesday afternoon, 22 May, after a 15-year-old boy brought a toy gun onto the school...
Community members, housing providers, volunteer services and property development sector representatives are encouraged to apply for membership on a new social and affordable housing...
Police are calling on the public to help locate missing Pakenham man Riley Richardson. The 18-year-old was last seen at a premise on Railway Avenue,...
While there is evident pain across the petrol pumps in Cardinia, a brand new Liberty petrol station on Racecourse Road has seen motorists taking...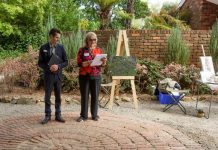 Arts champion Jillian Ronald has been fighting a protracted battle with Cardinia Shire Council over temporary street signs advertising this weekend's Pakenham art show. Ms...
A former Director of Music at Nossal High School has been placed on the sex offender registry after sending sexually inappropriate messages to a...
Two lanes are closed on the Monash Freeway citybound after Warrigul Road following a diesel spill from a truck's ruptured fuel tank. Emergency services and...
"Every single person seemed to have a smile on their face." That's how Dan MacEoin, festival director, described the Hills Ukulele Festival which was held...
Liberal Jason Wood defied the bookies, polls and pundits to hold the seat of La Trobe in Saturday's election, one of the state's most...
It's the election result that's got the experts scratching their heads: what happened to Labor? Prior to Saturday's poll, bookies and analysts were united: Labor...
Russell Broadbent has vowed to get started on delivering for the people of Monash, after being re-elected for his seventh term at Saturday's Federal...