A controversial planning application to subdivide a heritage listed site in Officer has been unanimously rejected by Cardinia Shire Council. Development giant Parklea applied to...
Cardinia Shire Council has entered its caretaker period, as the current team of councillors officially finish their four year term. As per the Local Government...
A road blitz to rebuild and resurface more than 66,000 square metres of road in Cardinia Shire has wrapped up. The State Government's $653.5 million...
A vile letter threatening to torture and kill cats has been distributed to a number of residents living within a Pakenham complex. The note stated:...
A Pakenham engineering company has been recognised for its leadership in the field after winning Victoria's 2020 Australian Engineering Excellence Award. Spencer Group Engineering (SGE)...
Gumbuya World's "little bundle of joy" has officially been given a name after the public were left with the final say. The park's first ever...
In a time when connecting with family is difficult, or illegal, the extension of Melbourne's stage four lockdown rules means thousands of people across Victoria...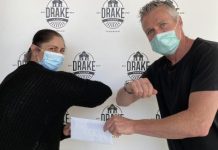 Sammy's Community Pantry, a service that provides free groceries to those in need, has been recognised for going above and beyond. Based in Officer, Sammy's...
Detectives investigating the mysterious disappearance of Pakenham CWA president Carol Clay and her camping companion Russell Hill will relaunch physical searches, after seeking assistance...
Regional areas surrounding Cardinia Shire are experiencing a real estate boom, with Melburnians jumping at the opportunity to purchase houses and land without seeing...
A Cardinia Shire councillor will launch a last minute bid to free the community from tough Stage 4 metropolitan restrictions, despite acknowledging the chances...
Stage 4 Covid-19 restrictions have required many local businesses to close their doors, including New York Barbers in Berwick. But they have used this time...