By Mitchell Clarke
One of the most recognised MPs in the region has reached a political milestone.
Gembrook MP Brad Battin officially celebrated his 10th anniversary in government on Friday 27 November, and the long-standing politician has no plans to step away just yet.
The Liberal MP was first elected to Parliament in 2010, knocking off former Labor MP Tammy Lobato. He won again in 2014 and 2018, but said the most recent election was the most difficult, after he only just beat Labor candidate Michael Galea.
"It's been an absolute privilege," Mr Battin told the Gazette, reflecting on the past decade.
"I came in with the vision that I would do a term and go to the next election and see what happened. I never got ahead of myself. To win once was great, to win twice was fantastic and to win again in such a tight race was special.
"I guess this (anniversary) is an opportunity to sit back and reflect on some of the great things that have happened in our community – big and small."
Among the highlights for Mr Battin – the Officer Specialist School and Officer Secondary College builds, the rebuild at Emerald Primary School, and more recently, works beginning on the new Emerald SES station and the new health and wellbeing centre at Berwick College.
A former police officer, he originally joined politics to be afforded the chance to make some changes, particularly around youth crime.
"I still haven't achieved everything I wanted to but I've got a genuine opportunity to make those changes," he said.
"I would love to see some changes in youth justice where we have a focus on the prevention model, working with young people as they enter the justice system."
With two years to go in this term, Mr Battin has ruled out the possibility of being directly involved in a leadership spill.
"I definitely will not be putting my hand up for opposition leader during this term," he said.
"I think leadership chooses you as much as you choose it. Never say never, but it's certainly not in my discussions at the moment."
But he has confirmed he'll run in the next election, and will be hoping it'll be a fourth time lucky.
"If the party choose me again and the community want me, I'll absolutely stay. The best thing about this job for me is helping someone with something small. It's not a public thing, not a front page, but when you know you've made a difference in someone's life. That's the ultimate for me," he said.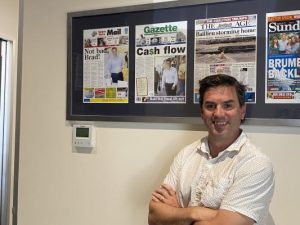 When asked if he thought the Liberal party's "politicisation" of the pandemic could affect his chances of being re-elected, Mr Battin said he believed the next election would be fought and won based on the state's recovery, rather than Covid itself.
"I think it'll all come down to where we are as a state in two years time," he explained.
But he hope the rapport he's built with the community will lead him to another victory.
"Thank you to the community for putting their trust in me over the years. I hope I've repaid the trust," he said.
"I want to continue in this role until I feel I have no more to give or until the community decide to take a different path."