Gippsland Storm Elite Development Netball Club headed to Waratah Beach Camp for their annual bonding experience to start the season off. The picturesque sights...
There are certain moments in time that will be remembered for as long as a club exists. One of those moments occurred for the...
By Nick Creely With another pre-season under their belt, Beaconsfield coach Leigh McQuillen believes the Eagles' brand will stack up in the new AFL Outer...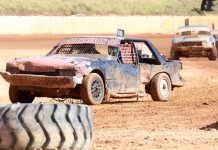 By Hayley Wildes Ally Morrison is following in her Dad's footsteps and it's fair to say there will be no backwards steps in her journey. Ally,...
WARRAGUL & DISTRICT CRICKET ASSOCIATION REVIEW - COUNTRY WEEK The Wild Dogs are snarling. The particular dog pack in question is the Warragul and District Cricket Association's...
DDCA TURF 1,2 AND 3 REVIEW – ROUND 13 (DAY TWO) TURF 1 It took until the second last round of the home-and-away season, but the finalists...
The Cardinia Cricket Club celebrated its 50th year gala at Amberlee Receptions in Cranbourne recently, reflecting on the proud history of the club and...
WGCA DISTRICT AND SUB-DISTRICT DIVISION REVIEW – ROUND 13 (DAY TWO) DISTRICT Emerald has made its move. The Bombers entered Round 13 in fifth position, six points adrift...
WGCA LOWER GRADES REVIEW - ROUND 13 (DAY TWO) Officer will finish the season atop of the WGCA B Grade ladder after chasing down Emerald's big...
Resilience, bravery, and the power of positivity - these were three of the themes to emerge from the sixth annual running of the Pakenham...
The inaugural AFL Outer East season will provide boundless opportunities for the former SEFNL clubs, and ahead of the 2019 season, Pakenham are one...
WGCA PREMIER DIVISION REVIEW - ROUND 13 (DAY TWO) There were a number of Round 13 clashes that had massive finals implications, but none more so...