It was an AFL talent scout's paradise at Shepley Oval on Saturday as the prospects came to play. The Vic Country and Combine squads in...
AROUND THE GROUNDS MORNINGTON PENINSULA DIVISION 2 - ROUND 16 Devon Meadows has fallen back to earth after its back-two-back victories, going down to Tyabb, 9.10 (64)...
Pakenham coach Ash Green admits that it was extremely difficult for his side to go out and play football on the weekend against Belgrave. With...
The pointy-end of the NAB League season is fast-approaching, which means the top prospects' athleticism and skills are about to be put to the...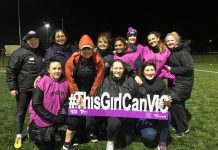 Pakenham United has launched its very own 'Soccer Mums' initiative, aimed specifically for women to meet new people, have fun and learn basic football...
Five years ago, Olinda Ferny Creek Football Netball Club's Peri Stewart thought she would never run on to a netball court again. Stewart broke a...
By sports editor Russell Bennett The West Gippsland Football Netball Competition is expected to remain as is for 2020, but there has been a huge...
Stewart 'Froggy' Fraser and Tony 'Spud' Paynter recently returned to Pakenham to remember the great times they shared as part of the Lions' famous...
"When all seems lost, it's about understanding that there is light at the end of the tunnel - even if you can't necessarily see...
It's only fitting that Rob Hughes' 300th game for Bunyip fell on such a special day for the club on Saturday. Because, for him, the...
OUTER EAST NETBALL REVIEW - ROUND 12 PREMIER A third-place standing was up for grabs as Cranbourne and Woori Yallock took to the court with equal points...
The stars of Melbourne Storm headed out to the grassroots of rugby league and met up with more than 1800 junior and senior footballers,...