With the 2021 Pakenham Cup on our doorstep, Gazette Sports Editor DAVE NAGEL winds back the clock to 2014 and a fascinating chat with...
GARFIELD GOLF It was pretty much a dry week on the radar with just a few overnight showers prevailing towards the end of the week. Ray...
PAKENHAM BOWLS SATURDAY PENNANT – ROUND 3 • DIVISION 1 Pakenham One travelled to Keysborough on Saturday expecting a tough contest but quietly confident that they could...
In this weeks edition of Tyler's Top Ten, Gazette reporter TYLER LEWIS takes a look at the best venues for cricket in the area...
Superstar speedster Koblenz was born to win a Group 1 TAB Melbourne Cup and Australia's – make that the world's – best bred greyhound...
There was no nervous 90s for Tiana Atkinson as she approached her maiden Victorian Premier Cricket century in last weekend's opening round. Atkinson faced just...
Dandenong have continued its slow start to the season, suffering a seven-wicket defeat at the hands of a classy Footscray side. The Panthers were sent...
DANDENONG DISTRICT CRICKET ASSOCIATION TURF 1 REVIEW - ROUND 2 It felt like an eternity ago that Hallam Kalora Park reigned supreme over the DDCA Turf...
Picnic racing gallops into action this Saturday at the Woolamai Racecourse. It's always a great atmosphere with families and social groups meeting under the...
Memories of a remarkable comeback victory in the 2010 Group-2 Cranbourne Cup after a quarter of a century out of the sport were rekindled...
Nyora Raceway returned to racing on Saturday night with happy faces and relieved race drivers' just loving being on track and enjoying the resumption...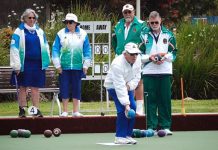 CARDINIA WATERS BOWLS Midweek Pennant Metropolitan Midweek Pennant commenced last Tuesday with Cardinia Waters fielding two teams in that competition for the 2021/22 season. Both teams,...