WGCA DISTRICT AND SUB-DISTRICT REVIEW - ROUND 6 (DAY ONE) In the only game to get underway on a wet Saturday, Cardinia stamped its authority over...
AROUND THE GROUNDS VICTORIAN SUPER SLAM ROUNDS 1 AND 2 At a buzzing Central Reserve in Glen Waverley, the inaugural Victorian Twenty20 Super Slam kicked off on...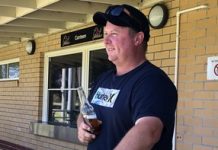 Luke Turner and his family are Cardinia through and through, but it didn't start out that way. A favourite son of the Bulls, he...
The Gippsland Storm Elite Development Netball Club has just recently completed its 2019 try-outs and with some incredible numbers taking part, the club has...
By Nick Creely The West Gippsland Football Netball Competition and Ellinbank District Football Netball League are set to do battle in a mouth-watering Interleague battle...
Casey-South Melbourne captain Luke Wells has a knack of making big hundreds. His 18 first-class hundreds is testament to that. The Englishman recently sat...
Local endurance motocross rider Daniel Milner has taken on the world, and won. Milner, who grew up in Yannathan, had already achieved greatness over many...
WARRAGUL & DISTRICT CRICKET ASSOCIATION REVIEW - ROUND 5 (DAY TWO) Just when it appeared from the outside that Ellinbank's bubble may've been set to burst,...
WGCA PREMIER DIVISION REVIEW - ROUND 5 (DAY TWO) They've got the depth with bat and ball, they've got the mixture of youth and experience, and...
"One thing about community is that you can't replace it. You can expand it, but you can't replace it." That was one of the key...
WGCA DISTRICT AND SUB-DISTRICT DIVISION REVIEW – ROUND 5 (DAY TWO) Nar Nar Goon/Maryknoll struggled mightily with the bat but fought back strongly with the ball...
WGCA LOWER GRADES REVIEW – ROUND 5 (DAY TWO) B GRADE After Luke Hamilton (134) - broken toe and all - led Devon Meadows to a total...