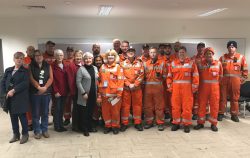 A sausage sizzle has raised $2000 for Pakenham SES.
The Pakenham Branch of the Country Women's Association donated the funds raised from their recent annual Bunnings Sausage Sizzle, which saw hundreds of snags feed hungry residents.
The group recently paid a visit to the SES branch to hand over the cheque.
President of the Pakenham CWA Carol Clay said the women had been so inspired to help the SES following a visit to the SES premises last year, that the branch decided the profit from the sausage sizzle would be given to the SES to assist in their valuable work in the community.
The Pakenham branch of the CWA meets on the first Wednesday of the month at the RSL rooms, corner of James and Snodgrass Streets, Pakenham at 10am.
Prospective new members are always welcome.
For further information contact the secretary via email at: heib001@tpg.com.au.