The man who led Blaze Aid efforts in Bunyip has shifted focus to the next recovery mission, establishing camps in fire affected communities across...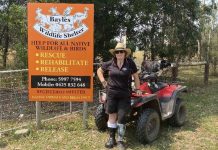 Bayles Wildlife Shelter is urgently seeking donations as it prepares to open its doors to badly burnt wildlife and livestock from fires across the...
Pakenham tennis prodigy Thomas Donaghy is perfecting his coin toss in the lead up to the Australian Open, where he'll step onto centre court...
The road safety message hasn't sunk in for some, as 25 drug drivers and 11 drink drivers were nabbed in Cardinia during a Christmas/New...
Pakenham stock agents have joined forces with disaster relief charity Need for Feed, calling on clients to donate hay for East Gippsland farmers affected...
A bumbling burglar has attempted to blur a security camera by spraying a water substance on it during a botched break in at Emerald. Investigators...
Pakenham's newest sporting reserve, which is set to become a "new focal point" for the growing area, will soon open to the public. Local...
Community organisations played a crucial role in the response and recovery efforts of the Bunyip bushfires. From the beginning, throughout 2019 and into the...
Tiger tragics turned out in droves, determined to get their paws on the 2019 Premiership Cup during a visit through Cardinia. The yellow and...
In times of heartbreak, the community shines. As Australia battles unprecedented bushfires, the community of Cardinia united, throwing their support behind those affected by the...
The south-east community was well and truly involved in the Christmas spirit, donating more than $12,000 towards Casey Cardinia Libraries (CCL) annual Christmas Charity...
The community of Cardinia and beyond have come together to throw their support behind Australia's bushfire crisis, providing financial donations and assistance where it's...