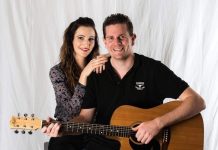 When songwriters Ben Mawdsley and Kate Appleyard were researching ideas for their latest song, they couldn't help but be moved and inspired by their...
After an article was published in the Pakenham Officer Star news last week many people approached and supported a petition for Cardinia Shire Council...
Filled with a keen sense of community, freshly minted Member for Bass Jordan Crugnale can't wait to get started on her priorities for the...
Victorian senator Derryn Hinch was taken on a meet and greet around Millhaven Lodge in Pakenham as part of the aged care facilities plea...
After a quick trip to the doctors on Wednesday morning, a Pakeham man returned to find his home completely turned upside-down and about $10,000...
It's officially on for young and old. After months of speculation, Prime Minister Scott Morrison finally called a Federal election last week, announcing that Australians...
The simple feeling of a foot cramp changed Gavin Boloski's life forever. "I first noticed it in December 2017 when I was running. I noticed...
Cardinia Shire's recycling processor, SKM, has reopened all of its processing sites – but the recycling crisis isn't over yet. The Hallam Transfer Station through...
Federal Labor Opposition Bill Shorten has pledged to invest $2.5 million to establish a new early intervention parenting centre in Pakenham. The centre would deliver...
Casey's Grace Williams occupied a spot in 2019 Top Acts, an evening concert that presents VCE performing arts students who have achieved exemplary results...
March was a challenging month across the Public Transport Victoria (PTV) network, with multiple incidents causing delays to trains in Melbourne and regional Victoria,...
CFA firefighters were on the frontline of the fires in Bunyip in early March. About 2000 firefighters were deployed to fight the blaze which...