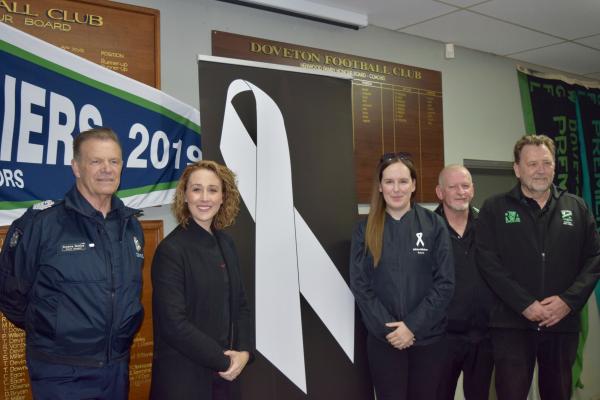 By Tyler Lewis
"Stand up. Speak out."
The message is simple, because it is so much more than footy and always will be.
The Doveton Football Netball Club continues its support for White Ribbon – a cause working to marginalise domestic violence – and the two joined hands once again on Saturday.
The Doves held its annual game against Pakenham in its fight to raise awareness for a well-needed cause.
Doveton president John Stapleton spoke to the Gazette about the importance of the awareness raising function on Saturday.
"One of the things we have always done is incorporate the White Ribbon logo into our playing jumper," he said.
"We get special permission to put it on and in actual fact we are the first football club in Australia to support White Ribbon.
"Today is really special, it is a fabric of the club.
"One of the things we have is Pakenham – who we always play on this day – come in, as well as all of our players.
"Gabrielle Williams is our number one ticket holder; she always supports this particular event.
"Today is a really special day and we struck a White Ribbon Cup, we will be presenting that after the game."
As she always is, State MP Gabrielle Williams was a guest speaker at the event.
Her speech, short, but powerful, revealed some alarming statistics of domestic violence.
"In a room that is so male dominated, to have these discussions so openly and with great passion is one of our best tools that in 10,20 or 30 years somebody might not be here telling horrific stats," Williams said.
"A woman a week dies at the hands of a partner, family violence being the leading cause of disability and death for women aged between 15-44.
"It is particularly important this year on the back of Covid, we are all focused on the health and economic impacts.
"During Covid one in 10 women experienced family violence and a third of those had experienced it for the first time. We know the numbers are tracking up, we know this is a product of a combination of factors.
'But at its core, a culture that is endorsing this violence, we need our whole community to be committed to ending this.
"I think we can all agree it is not something we want to carry forward. It is getting old. It has to stop."