By sports editor Russell Bennett "It's sort of like I go into a different world when I play footy - adrenaline kicks in and if...
"Anything that's hard-earned feels even sweeter once you achieve it." After making his long-awaited AFL debut at the age of 21, with that statement it's...
While Queensland has just become the centre of the AFL world, until at least the end of the home and away season, Ben Collins...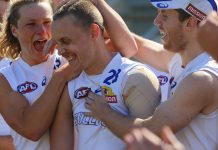 Cal Porter knows the true meaning of hard work and sacrifice more than most young footballers his age. The Officer product personifies the kind of...
Another of Beaconsfield's favourite sons will get his first taste of AFL football, with small forward Cody Weightman set for his debut on Friday...
PART I Together, Emerald, Gembrook, and Cockatoo are part of one, big hills community with an even bigger heart. They're united by their similarities much more...
The full, 99-page G25 Strategy final report has begun to surface throughout Gippsland, and it highlights real concerns about the way community football is...
By sports editor Russell Bennett Following yesterday's Victorian State Government announcement that all metropolitan local government areas - including the Yarra Ranges, Cardinia, and Casey...
The Casey Demons have withdrawn from this year's upcoming VFL season, due to the spike in Victorian Covid-19 cases. In a statement released on the...
The Warragul Industrials' quest to climb the ladder and compete against the best in the brutally competitive West Gippsland Football Netball Competition (WGFNC) has...
By sports editor Russell Bennett As the dominoes continue to fall around the state, with community football and netball leagues making the call on their...
By sports editor Russell Bennett The groundswell of support behind Caleb Serong as he prepares to make his AFL debut tomorrow night against the Gold...