Talk about a breakout game. He had threatened to do it in recent weeks, especially in his last outing against Footscray, but Mitch Cox (Narre...
By David Nagel The two previous champions of the West Gippsland Football Netball Competition (WGFNC) have raised the bar to new heights to set up...
By Nick Creely The AFL Outer East football and netball competition is set for a return this weekend, with a number of changes set to...
By David Nagel Surely, we can trust the senior coaches and support staff in the West Gippsland Football Netball Competition (WGFNC) when they fill out...
Local football and netball leagues are taking varying approaches to dealing with the impact of the seven-day circuit-breaker lockdown that caused a cancellation of...
Beaconsfield Junior Football Club has been boosted by yet another star on the rise, with Cody Weightman being the Round 10 AFL Rising Star...
"Dad always used to say to me: work rate and voice." It's a simple mantra, but it's one that's holding Miller Bergman in good stead. The...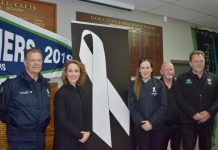 "Stand up. Speak out." The message is simple, because it is so much more than footy and always will be. The Doveton Football Netball Club continues...
Cora Lynn Football Club has the highest home-and-away win percentage of any team in the region over the last decade – just nutting Narre...
Round 5 is done and dusted. The early favourite continued his surge, polling the perfect ten. While the other two favourites are hot on his heels,...
To be a mature-aged draft pick, it takes a certain set of skills. Resilience, patience and work ethic to name a few. All traits that Casey...
Dave Mason is one of the cogs that form the beating heart of the Nar Nar Goon Football Netball Club. Like many volunteers, Mason has...