There's a famous quote that sums up everything Bobbie Lee Blay believes in. The head trainer at the Kilcunda Bass Football Club and a mother...
The Bunyip community lost one of its true legends recently with the passing of 98-year-old Clarence 'Clarrie' Steenholdt. His story began in the old private...
WEST GIPPSLAND FOOTBALL NETBALL COMPETITION REVIEW – ROUND 1 (SPLIT ROUND) Tooradin-Dalmore rebounded quickly from its first-up loss to Cora Lynn on the opening night of...
WEST GIPPSLAND FOOTBALL NETBALL COMPETITION SEASON PREVIEW - 2019 The astonishing finish to the 2018 WGFNC home and away season only served to prove how hotly-contested...
By Russell Bennett In some ways, Inverloch Kongwak was the real hard luck story of the 2018 West Gippsland Football Netball Competition senior season. But just...
By sports editor Russell Bennett South-east footy legends Aussie Jones and Ricky Clark could tell right from the opening minute of pre-season that Bunyip's 2019...
By Nick Creely The West Gippsland Football Netball Competition and Ellinbank District Football Netball League are set to do battle in a mouth-watering Interleague battle...
After rupturing his ACL in March of this year, the likelihood of Tyson Goldsack pulling on the Collingwood jumper this season was slim. No one...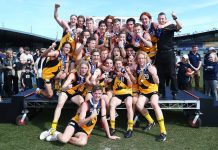 By Hayley Wildes The Dandenong Stingrays have claimed their maiden TAC Cup Premiership in a thrilling win over the Oakleigh Chargers. After 27 years and five...
No one who was at Garfield's Beswick Street ground on Saturday will forget what they witnessed in hurry, and for those who didn't see...
WEST GIPPSLAND FOOTBALL NETBALL COMPETITION SENIOR GRAND FINAL - THE WINNING CLUB To Beau Vernon, footy is far more than just a game. It's a religion. Footy...
Now a two-time Berwick premiership coach, it would be a fair assumption that Stewart Kemperman has been around the senior coaching caper for a...