The last thing Caleb Serong ever wants to hear is "keep doing what you're doing". He's continually on the hunt for ways to improve his...
"It's frustrating for the coaches, but for the players and everyone, we worked pretty hard and didn't capitalise on our work." Casey Demons coach Sam...
AROUND THE GROUNDS MORNINGTON PENINSULA DIVISION 2 - ROUND 14 Devon Meadows star Joel Hillis recorded a dominant seven goals for the Panthers in their big win...
In its first match of the recent National Championships, the Vic Country under-18 side travelled to Tasmania to complete one of the bigger demolition...
By Russell Bennett In a season that already had so many intriguing sub-plots and storylines, on Saturday the Demons and the Yips combined to write...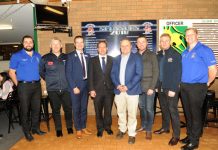 By Nick Creely and Russell Bennett Officer president Nick McLennan doesn't want to see his club pushed back into the pack. It's why the Kangaroos -...
By sports editor Russell Bennett A Beaconsfield football icon has serious doubts about the suitability of the AFL Outer East competition for his club moving...
By sports editor Russell Bennett Phillip Island premiership coach Beau Vernon vividly remembers "kicking the dew off the ground" at Nar Nar Goon back when...
That sweet, sweet feeling of senior football premiership glory hasn't been experienced by too many at Kooweerup in recent decades. So that's what made the...
WEST GIPPSLAND FOOTBALL NETBALL COMPETITION REVIEW - ROUND 13 From the outside looking in, Bunyip entered Saturday's home clash against the Warragul Industrials as the warmest...
Courtesy of a stirring second-half performance, the Casey Demons overcame a slow start against the Northern Blues at Casey Fields on Saturday to record...
By Russell Bennett It may not be all that obvious to many outside the club just yet, but there's something genuinely special brewing at the...