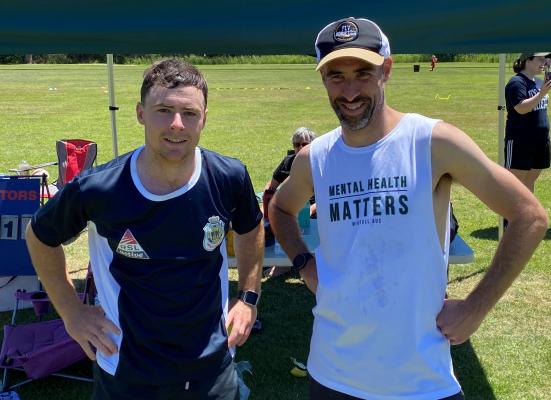 By Russell Bennett
In runners, work boots, barefoot, or even in gumboots – the choice of footwear didn't matter at the Geoff Watt Track in Warragul on Saturday. All that mattered was the support thrown behind Mindfull Aus and its mental health cause.
The run – in aid of the registered charity that was founded by Warragul product Matt Runnalls in early 2016 – exceeded all expectations, highlighting the best of the human spirit.
Grit, determination, genuine toughness, and a refusal to give in – these were all showcased all day long by local pair, and great mates, Jack Symes and Paul Pratt as they walked the walk – but mostly ran the run – in the name of charity.
Their aim was to run 100 kilometres, setting off at 6am.
That's a whopping 250 laps of the track.
And the boys accomplished their astonishing goal in style – running their final lap with dozens of people who'd turned out to show their support.
And that support was there all day – in all kinds of forms – as the boys raised more than $10,000 for Mindfull's mental health initiatives.
It was a staggering effort, with the pair initially hopefully of breaking the $5000 mark.
"The support of the community is what kept me going," said Buln Buln footballer Symes, who like Pratt, is entrenched in the Baw Baw Shire community.
"Having so many people run laps with us was incredible to see.
"At least 10 people would have clocked up over 20 kilometres for the day and some ran with no shoes, some in work boots, and even a boy in gumboots punched out a few laps.
"Seeing the faces around the oval was a huge motivating factor, and having our own 'Bay 13' ripping into blokes and encouraging us running past was just amazing. We ran the last lap with probably around 50 people, I'd say, and when we crossed that line it was as if we had won a flag. I won't forget that moment."
Pratt said the show of support for the pair's mission was nothing short of "overwhelming".
"We haven't tallied it up yet, but you'd be safe to say that as a community we would have ran well over 600 kilometres," he said.
"Surely that shows how much the Baw Baw Community love running and being active, and deserve a much-needed upgrade to our beloved Geoff Watt Track.
"The messages, videos, calls, Facebook posts and the conversations had leading up to it, on the day and since, have brought me to tears a couple of times.
"To have people come up and let us know we've either helped them, their partner, kids or those they know talk about mental health, and that it's okay to not be okay, is so powerful.
"The emotion in the final few laps – and that final one with 50-plus people in tow and the kids in front – was one of the most powerful things I have experienced and sits up there in the top 10 moments of my life."
Symes and Pratt, from the bottom of their hearts, thanked everyone involved with the run – including Pratt's kids, nine-year-old Sapphire, seven-year-old Charlie, and five-year-old Harlow, who ran 72, 32, and 13 laps respectively; and Symes' mother, Fiona, who smashed out a brilliant 30 kilometres.
And Pratt – an experienced marathon runner – reserved special praise for his mate, Symes.
"Hats off to Jack – the man, the legend," he said.
"Less than two months ago he'd never even ran a marathon, and then to smash out 100kms when his longest run before that was 43kms two weeks ago… I was so impressed to witness it. His mental strength and determination to get through those final four to five hours was so inspiring, not only to me, but you could see it in his family and his mates as well. What a bloody little champion."
Symes said, looking back at it, the run seems like a blur now.
"I can remember some milestones, like the first marathon when we clocked up 42.2km," he said.
"I remember strongly the 70km mark where I got a cramp in my calf when I was running. I ran probably 100 metres with my toe pointing to the sky trying to stretch it out.
"I left the track and said 'I am done', only to be supported by one of the legends running with us who stretched out with me and then we walked a lap and kept on going.
"Pratty said that we would walk the rest if we had to. That was the toughest part for me – I honestly didn't think I could go on and if it wasn't for all the support that was there for us."
In a sign of just how physically draining Saturday's effort was, Pratt said his body shut down in the hour or so after the run concluded.
"My beautiful wife told me it was like I was having an out-of-body experience – my whole upper body was shaking and I was apparently saying I was still running and could make it… the mind was not defeated," he said.
But, incredibly, Pratt has already put the runners back on.
"I love it," he said.
"It makes me the best version of myself and ready to tackle the next challenge.
"One my friends shared a quote from Barack Obama – 'A Change is brought about because ordinary people do extraordinary things'. I didn't think what we were planning to do was extraordinary, and it certainly wasn't about the accolades – but I then reflected and took it a step further. Our community all did extraordinary things today (for the event), and as a whole we are all better for it."
Pratt and Symes thanked their small army of supporters, friends, and family members for all their efforts in getting behind Saturday's cause, as well as all those who donated – and continue to donate to Mindfull Aus.
They also paid tribute to those behind the scenes – such as those manning the barbecue, and the Warragul Little Athletics for their help and the use of their facilities.
"The power of community is so special," Pratt said.
"We're just so, so grateful to be a part of it."