By sports editor Russell Bennett The tough times - all of those down years and heartache - have created a kind of scar tissue that...
"Everyone has a different journey - it's how you travel along your journey that counts." For Lado Alphonse, and more than a dozen other young...
Records are made to be broken, but it doesn't mean they can't be celebrated. 2019 looms as the first season in 21 years that all...
AROUND THE GROUNDS MORNINGTON PENINSULA NEPEAN DIVISION 2 - ROUND 18 In fascinating scenes, the match between Karingal and Pearcedale was abandoned due to a sinkhole emerging...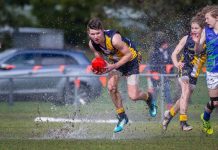 SOUTH EAST JUNIORS SEMI FINALS – UNDER 11s, UNDER 12s, UNDER 13s, UNDER 14s, UNDER 15s UNDER 13s, 14s, 15s It's that time of the year again,...
ELLINBANK AND DISTRICT FOOTBALL LEAGUE REVIEW - ROUND 17 In the match of the round, Ellinbank secured top spot on the ladder against Longwarry in an...
To solidify their rebirth in a new era of West Gippsland footy, the Seagulls revisited the glory years of their past on Saturday night...
With just one round left to play in the 2019 NAB League home and away season, TYLER LEWIS has taken a look at the contenders...
Casey got back to its best defensively on the weekend in a brutal win over old nemesis, Collingwood. With an intensifying wind going towards one...
OUTER EAST FOOTBALL PREMIER DIVISION REVIEW – ROUND 15 "There was a lot to play for, and we have to keep winning to play finals, so...
Doveton has an abundance of experience and class on its list, but it took the energy and talent of some of its younger brigade...
By sports editor Russell Bennett Wonthaggi officially wants out of Gippsland's premier football and netball league, citing travel times and distances as the main factor...