By Nick Creely The Eastern Football Netball League has called a Special General Meeting (SGM) for its member clubs on Wednesday 29 September, with two clubs...
Joe Lenders is one of the truly iconic figures of local football who carried a fearsome reputation across a commanding football journey than spanned...
There has been a lot to digest in the last few months for Cranbourne champion Troy Tharle in the wake of yet another head...
The West Gippsland Football Netball Competition (WGFNC) will return to play on Saturday, 14 August as a result of a vote taken of all...
By Nick Creely The AFL Outer East has confirmed a start date for senior football and netball, as well as under 19s, with Saturday 7...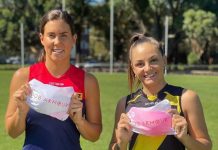 By David Nagel Libby Birch is universally admired for her elite football skills but the Melbourne AFLW star wants her pre-game routine to be something...
Tooradin-Dalmore has claimed its biggest scalp of the 2021 West Gippsland Football Netball Competition (WGFNC) season with a 26-point – 15.10 (100) to 11.8...
The AFL South East Regional Junior Championships kicked off last week, with some of the most exciting youngsters from four junior different leagues playing...
Tooradin-Dalmore is ready to answer the biggest and broadest questions that West Gippsland football has to offer after the Seagulls demolished a disappointing and...
Mighty Mick Fogarty has the undefeated Beaconsfield absolutely humming. Has the lid well and truly blown off at Holm Park? Externally it certainly has. It's pretty hard...
Woori Yallock and Cranbourne are beginning to form one of the genuine rivalries of the AFL Outer East with yet another drama-filled clash on...
Emerald banked arguably its most important win of the season to date against Gembrook Cockatoo on Saturday, 12.10 (82) to 8.12 (60). The Bombers always...