Round 5 is done and dusted. The early favourite continued his surge, polling the perfect ten. While the other two favourites are hot on his heels,...
Round four of the Pakenham Gazette Coaches award saw just three games played over the weekend. With Beaconsfield having a bye, the door opened up...
Cuddles and hearty handshakes were only outnumbered by the laughs as Kooweerup celebrated its 1981 premiership clean-sweep with a 40-year-reunion at Denhams Road on...
The stories were flowing thick and fast at Tooradin on Saturday as some legends of the past celebrated the 50-year reunion of the most...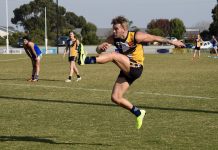 AFL OUTER EAST PREMIER DIVISION COACHES AWARD - ROUND 3 Round Three was a fascinating round for the context of the premier division, some coaches agreed,...
Nar Nar Goon has breathed new life into the West Gippsland Football Netball Competition (WGFNC) with a stirring backs-to-the-wall five-point victory over Phillip Island...
By Nick Creely AFL OUTER EAST PREMIER DIVISION SEASON PREVIEW – 2021 BEACONSFIELD Nickname: Eagles Ground: Holm Park Recreation Reserve President: Troy Robinson Coach: Mick Fogarty Last premiership: 2014 2019 Finish: Third Leading goalkicker:...
Pakenham has kicked off life in the AFL Outer East's Women's competition with a barnstorming win, overcoming Monbulk on Saturday afternoon. The Lions stormed to...
Berwick has fallen agonisingly short of a perfect start to its new life in the Eastern Football League (EFL) with a two-point loss to...
AFL OUTER EAST DIVISION 1 REVIEW - ROUND 1 It has been a long time coming! September 22, 2019, was the last time two Division 1 premiership...
AFL OUTER EAST PREMIER DIVISION REVIEW – ROUND 4 (SPLIT ROUND) There's probably no better way to kick off a title defence. It may well be a...
By Tyler Lewis "We had physicality about us on the weekend that was intense." Rodney Benstead's Berwick Springs sent shock waves through the competition on Saturday...